I have nothing to write about – no new virtual events at The Poisoned Pen, no Hot Book of the Week. So, I'm going to write about one of my two favorite storytellers (Craig Johnson, author of the Longmire books is the other). Pulitzer Prize-winning author Rick Bragg has a new collection of essays, Where I Come From: Stories from the Deep South. You can order it through the Web Store. Or, if you really want a treat, buy the audiobook and listen to Bragg himself read it to you. https://bit.ly/3eXKpgw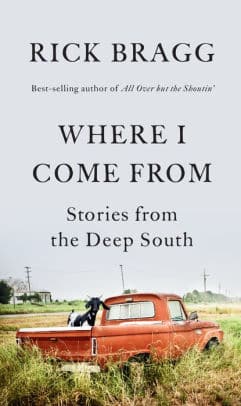 I can give you the summary of Where I Come From.
From the best-selling, Pulitzer Prize-winning author of All Over but the Shoutin' and The Best Cook in the World, a collection of his irresistible columns from Southern Living and Garden & Gun
A collection of wide-ranging and endearingly personal columns by the celebrated author, newspaper columnist, and Pulitzer Prize winner Rick Bragg, culled from his best-loved pieces in Southern Living and Garden & Gun.
From his love of Tupperware ("My Affair with Tupperware") to the decline of country music, from the legacy of Harper Lee to the metamorphosis of the pickup truck, the best way to kill fire ants, the unbridled excess of Fat Tuesday, and why any self-respecting southern man worth his salt should carry a good knife, Where I Come From is an ode to the stories and the history of the Deep South, written with tenderness, wit, and deep affection–a book that will be treasured by fans old and new.
*****
Or, I can give you my comments about Where I Come From: Stories from the Deep South.
If you read Southern Living, you've probably read most of the essays in Rick Bragg's book Where I Come From: Stories from the Deep South. I'm not from the South. I'm not from the mill towns and hills and country that Bragg describes with so much love. But, it doesn't really matter because his poetic descriptions of his home and family bring me to tears. And, sometimes I nod when I think of my grandfather who was a farmer and wore his bib overalls, and my grandmother in her housedress. Those salt-of-the-earth relatives and Sunday dinners live in memories, whether you're from Alabama or northern Ohio.

Rick Bragg is a little younger than I am, but I laughed at his memories of the old black-and-white monster movies,Frankenstein and The Mummy. He's right when he admits the ones that still scare him are the ones about creatures that grow to "insane proportions". He doesn't mention Them by name, but he mentions the giant ants. I'm still haunted by the sound of those creatures at the beginning of the movie.

Food. Rick Bragg can describe food so that you want to jump in the car and head south. Fortunately, I've lived places where I could get good biscuits and gravy, and good sweet tea. I agree with him. I don't understand people who don't appreciate a tomato sandwich on white bread with mayo, salt and pepper. You don't get those kind of good tomatoes much any more, the ones that make you stand over the sink and eat that sandwich. He appreciates the city so much that there are three chapters about the food in New Orleans. 

There's a section that is a tribute to the deceased. He wrote two essays about Harper Lee, one about his friend, Pat Conroy. But, the longest essay in that section is about a dog, a stray that showed up, and stayed, and protected the property from animals and deliverymen. There are a lot of people who will acknowledge that a favorite animal deserves an essay or two.

And, personally, as someone who loved the country music of Johnny Cash and the Carter Family, Patsy Cline, and Marty Robbins, I agree with Bragg about the decline of country music. But, he could have written an entire book on that subject.

Rick Bragg's essays make me smile and cry. I had no plans to go home for Thanksgiving this year, but he makes me yearn to be there in a year when no one should be visiting family this holiday. When it comes right down to it, that's what Rick Bragg does best. He brings back memories of family and the past. He doesn't stir up memories of "the Deep South", of Southern rights and Confederacy and flags. He stirs up memories of the people and food and stories that mean home, no matter where you're from. Where I Come From really means the roots and people we come from, no matter who we are. That's what Rick Bragg does best.