I love to be able to share the backstory of a book. Mary Anna Evans, author of the Faye Longchamp Archaeological Mysteries, took the time to write about Wrecked, the thirteenth in the series. You can order Wrecked, and the other books in the series, through the Web Store. https://bit.ly/2IrcqLo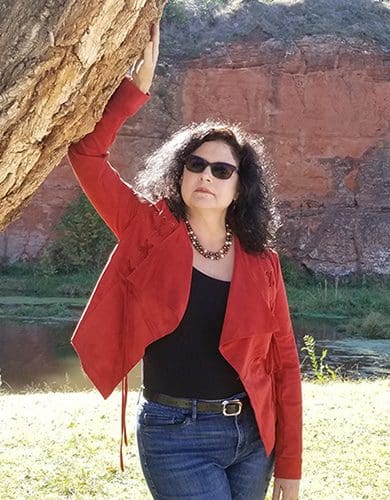 Mary Anna Evans is the author of the Faye Longchamp archaeological mysteries, which have received recognition including the Benjamin Franklin Award, the Mississippi Author Award, and three Florida Book Awards bronze medals. She is an assistant professor at the University of Oklahoma, where she teaches fiction and nonfiction writing. Winner of the 2018 Sisters in Crime (SinC) Academic Research Grant.
Here's Mary Anna Evans' backstory about Wrecked.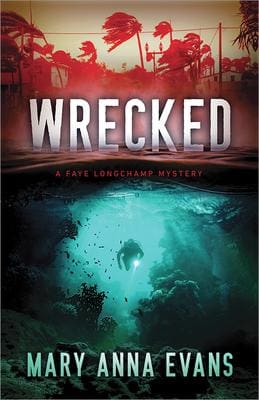 Going Underwater with Archaeologist Faye Longchamp
by Mary Anna Evans
I've been writing about an archaeologist, Faye Longchamp, for more than seventeen years. I've taken Faye (or should I say that Faye has taken me?) into old catacombs underneath Oklahoma City and into the romantic, spectral past of New Orleans. She's traveled to rural Alabama, urban Tennessee, and small town New York. Faye gets around.
Faye swims like a fish, and she handles boats like the experienced sailor that she is. She's a good mechanic who keeps her old car running and keeps her boat motors singing. She can operate a sewing machine. She knows her way around rare book libraries. She lives in an old house, so she can patch a tin roof and repair broken shutters. She has lived off the grid and, although she never wants to be without air conditioning and cell phone service again, she could manage if she didn't have a choice.
When I began planning the latest Faye Longchamp archaeological mystery, Wrecked, I knew that I wanted to set this one at her home on Joyeuse Island, off the Florida panhandle. Joyeuse Island is an evocative setting, wild and beautiful, and Faye's heart will always be there. I think it's realistic for her to travel for her work, and it's fun for me and for my readers to "visit" interesting places along with Faye, but I like to take her home every few years. I think that seeing Faye among her friends in her native habitat gives readers a fuller sense of who she is. Taking Faye home to Joyeuse also gives me a chance to explore her family history, which is another way of depicting the past that has shaped her.
(As an aside, let me say what a privilege it has been to explore and develop this character over thirteen books. I've published well over a million words about Faye, and I continue to find interesting depths to her character. When I began the series, I did not anticipate how much of a gift it would be to write the story of one person's life over many years. The series as a whole gives me the feeling of diving into one of those Dickensian novels that serve as an exhaustive character study—"To begin my life with the beginning of my life, I record that I was born…")
So, once I'd decided to take Faye home to her island, I needed to decide what was going to happen to her and what she was going to do about it. Right away, it occurred to me that I had never done a book about underwater archaeology.
There was a very good reason for this. I don't dive. In fact, the idea rather terrifies me.
I swim and I have snorkeled a bit, so I've felt comfortable writing scenes from Faye's point-of-view while she does those things, but could I write about a subject that screams out for underwater scenes involving scuba gear? No spoilers, but if you've seen the gloriously spooky cover of Wrecked, you have probably guessed that people do in fact scuba dive in the book. And if you've read the back cover copy, you know that one of Faye's friends is found drowned, wearing scuba gear.
How did I manage this? I reached out to people who had intimate knowledge of diving. I found people who have dived in the Gulf of Mexico and could tell me about the clarity of the water. (Or, at depth, the lack of clarity.) My friend Nadia, whose ecological business has included extensive diving ,told me her observations, and she sent me to someone with detailed knowledge of how diving equipment works…or fails to work. That conversation gave me enough information to explore the internet to find out how drowning deaths are investigated. The things I learned there took me to websites for sheriff's offices in small Florida counties to learn about staffing for those investigations. And so on. Reaching out to experts always takes me down a research rabbithole that leads to a better book that I could have written if I'd tried to draw only from the contents of my own head.
And this research took me back to my character, Faye Longchamp, as good research always does. Readers are interested in how scuba equipment works, I'm sure, but they care about people. They care about Faye. I gave Faye my fear of diving, about which I am extremely well-qualified to write, and that fear raises the stakes of this investigation for her. She must rise above it or find a way around it, because it is deeply important to her that she find out what happened to her friend.
If you have my trepidation about sinking deep beneath the water, carrying nothing to keep you alive but a tank and some machinery that could fail, then perhaps you would enjoy diving into the pages of Wrecked instead. You can see the briny deep and never even get wet.
*****
Here's the summary of Wrecked.
Next title in the Faye Longchamp Archaeological Mysteries. When tragedy strikes and everything she loves is threatened, Faye Longchamp, an expert in American archaeology, will resort to desperate measures. Because some losses cut to the bone…A murder mystery with an archaeological twist, Wrecked is:Florida-based mysteryPerfect for fans of James Lee Burke and Nevada BarrFor readers of archaeological mysteries
The suspicious drowning death of Captain Edward Eubank breaks archaeologist Faye Longchamp's heart. It also confuses her, because he was found in scuba gear and she's never heard him even mention scuba diving. During their last conversation, he told her that he believed he'd found a storied shipwreck, but when Faye checks it out, she finds nothing there—not a plank, not a single gold coin, nothing. If there's no treasure, then why is her friend dead?
But the situation quickly escalates beyond a murder mystery. Surrounded by a community struggling in the aftermath of a major hurricane that has changed the very landscape, Faye grapples not only with the loss of her friend, but with her fears for her daughter, who is being romanced by a man who may be very dangerous.
As a professional with her own consulting firm, Faye had long ago given up her "anything goes" attitude when the law stood between her and an interesting dig. Now that recklessness is back. There's nothing she won't do to protect her daughter.
In this riveting addition to an archaeological mystery and thriller series perfect for fans of Nevada Barr, Faye must save her most precious cargo—her daughter.