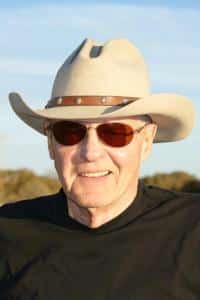 Michael McGarrity's Head Wounds is the current Hot Book of the Week at The Poisoned Pen. That's perfect because he's the guest author for the virtual event on Poisoned Pen's Facebook page, Friday, November 6 at 4 PM (6 PM ET). You can pre-order a signed copy of this latest Kevin Kearney book, as well as earlier ones, through the Web Store. https://bit.ly/327ZVRN
Head Wounds is the final book in the Kevin Kearney series.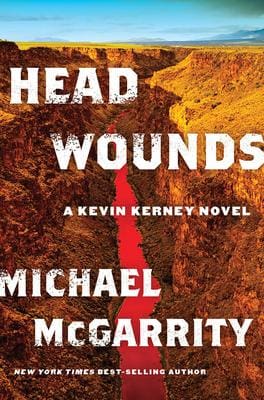 Clayton Istee, son of retired police chief Kevin Kerney, goes up against an elusive Mexican hitman in a mesmerizing story of murder, revenge, and redemption.
Given a chance to salvage his law enforcement career, Dona Ana County Sheriff's Detective Clayton Istee catches a bizarre late-night double homicide at a Las Cruces hotel. Both victims, a man and a woman, have been scalped with their throats cut.
The murders show all the signs of a signature hit, but national and state crime databases reveal no similar profiles. Digging into the victims' backgrounds, Clayton discovers that six months prior the couple had walked out of a nearby casino with $200,000 of a high-stakes gambler's money.
He also learns the crime had been hushed up by an undercover federal DEA agent, who resurfaces and recruits Clayton for a dangerous mission to seize the Mexican drug lord responsible for the killings.
Thrust into the nightmare world of borderland drug wars and corrupt cops, Clayton duels with a cunning assassin poised to kill him and his family in a ferocious climax to the Kevin Kerney series that is sure to stun.
*****
With the publication of Tularosa in 1996, Michael McGarrity turned to writing full time. Many of his novels have been national best sellers. He holds a BA with distinction in psychology and a master's degree in clinical social work. As an undergraduate, he held a Ford Foundation Scholarship at the University of New Mexico. Additionally, he is an honor graduate of the New Mexico Law Enforcement Academy.
His career in criminal justice spanned over twenty-five years and included creating treatment programs for drug offenders, supervising outreach services for at-risk juveniles, and re-establishing mental health services for the Department of Corrections after the infamous 1980 riot at the New Mexico Penitentiary. As a Santa Fe County deputy sheriff, he worked as a patrol officer, training and planning supervisor, community relations officer, and was the lead investigator of the sex crimes unit, which he established. Additionally, he taught courses at the New Mexico Law Enforcement Academy, served as a caseworker and investigator for the Public Defender's District Office, and conducted investigations for a state government agency. In 1980 he was named New Mexico Social Worker of the Year and in 1987 was recognized by the American Legion as Police Officer of the Year.
In 2004 he received the New Mexico Governor's Award for Excellence in the Arts — Literature. He is also the 2015 recipient of the Frank Waters Exemplary Literary Achievement Award and the 2015 Santa Fe Mayor's Award for Excellence in the Arts "" Literature. He has been instrumental in establishing the Hillerman-McGarrity Creative Writing Scholarship at the University of New Mexico, the Richard Bradford Memorial Creative Writing Scholarship at the Santa Fe Community College, and the N. Scott Momaday Creative Writing Scholarship at the Institute of American Indian Arts.
He lives in Santa Fe, New Mexico with his wife Emily Beth (Mim).