Hello from Poisoned Pen Press!
We're thrilled to publish a first-in-series special edition reissue of The Rock Hole by Reavis Wortham, winner of the 2020 Spur Award from the Western Writers of America. The new edition includes an introduction by author Joe R. Lansdale, an author interview, and a reading group guide. It's available through the Poisoned Pen's Web Store at https://bit.ly/2yinlUS
The Thin Blue Line meets Sulfur Springs by William Kent Krueger in The Rock Hole. This is a gripping police procedural set in idyllic small town Texas where a chilling crime spree is unfolding and the drug culture and political unrest of the 1960s is creeping closer and closer.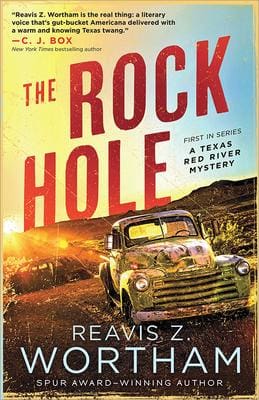 When your family's safety is threatened, what wouldn't you do to protect them?
Lamar County, Texas: Summer, 1964. Life is idyllic for ten-year-old Top Parker, who has come to live with his grandparents in the rural community of Center Springs. Yet while Top runs the woods and countryside with his near twin cousin, Pepper, his Grandpa Ned—also known as Constable Ned in these parts—witnesses the spreading menace of a deranged killer. Out of his element, Ned reaches out to neighboring law enforcement and then the FBI.
Local news sources tag the budding serial killer "The Skinner," and the label is chillingly accurate. Beginning with the torture and killing of small animals, the monster quickly moves to humans, displaying their mutilated corpses as gruesome trophies, with no apparent pattern to grab hold of. Lamar County cowers. Meanwhile, Constable Ned is convinced that a vendetta is involved, and though the why of it is murky, he can no longer deny that something horrific and dangerous is heading for the Parkers. Now the law can't help him, and he must use whatever means necessary to protect himself and his family.
Is Ned up to the fight of his life?