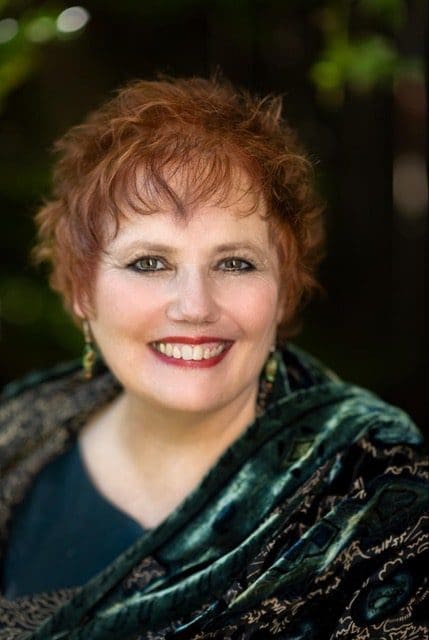 Laura Jensen Walker has an unusual backstory for a mystery series. However, I'm going to let her tell you about it. So I don't spoil her post, I'm not going to include her author's biography until after the piece. However, she is the author of The Bookish Baker Mysteries. The first one, Murder Most Sweet, was released in September. Her first Faith Chapel Mystery, Hope, Faith, & a Corpse will be out in January. You can order Walker's books through the Web Store. https://bit.ly/37rvXMd
Here's Laura Jensen Walker's surprising backstory.
*****
Breasts and Backstory in the Bookish Baker Series
Guest Blog by Laura Jensen Walker
Happy Anniversary! You have cancer. I was diagnosed with breast cancer the day after my first wedding anniversary at age thirty-five. My mom was holding one hand, my new husband the other, when the doctor gave me the bad news after my biopsy. I burst into tears at the word "cancer" thinking it was a death sentence. After starting and stopping school several times over the years I had finally just graduated from college with a degree in journalism and was eager to start my professional writing career. I was also in the honeymoon stage of my marriage to Mr. Right after too many years of Mr. Wrongs.
How could this all be taken away?
Thankfully, the only things taken away were a breast, some lymph nodes, the contents of my stomach, some pounds I'd been trying to lose for years, and later, temporarily, my hair. Today, I am grateful to be 28-years cancer free.
Five years ago I chose to go flat and have my second breast removed due to some pre-cancerous lumps and my genetic predisposition to get cancer again. No thanks, I'd rather live. Twenty years ago I wrote about my cancer journey in Thanks for the Mammogram! the non-fiction book of my heart.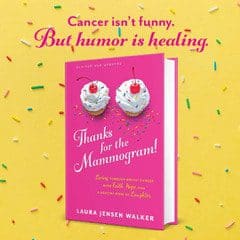 This fall, in time for October's Breast Cancer Awareness Month, my publisher rereleased Thanks for the Mammogram in a revised, updated version for a new audience of women. My prayer is that it will provide encouragement, hope, and a healthy dose of laughter to those going through breast cancer.
This fall is also when my first cozy mystery, Murder Most Sweet, debuted. As a former journalist, my authorial career began with non-fiction books years ago. Fiction has always been my greatest love, however, so I'm grateful and thrilled to be back writing it once again after more than a decade away. I'm even more thrilled to be writing mysteries—my favorite genre.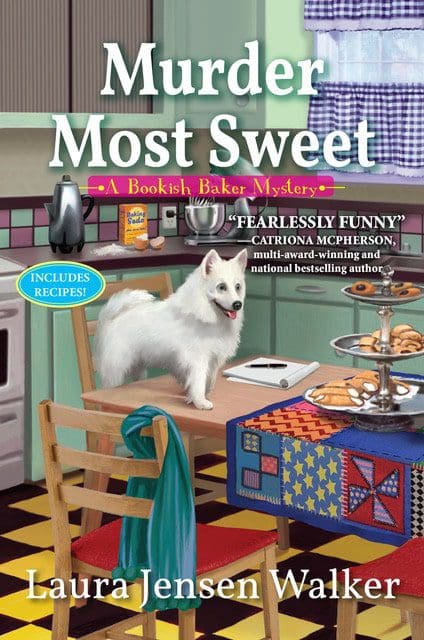 When I decided to write cozies, I wanted to see a character like me; a breast cancer survivor who chose to go flat. My protagonist, Teddie St. John, is a strong, funny single woman in her forties who doesn't let her flat state stop her from anything, including leading a fun, well-rounded life as an author and baker. Her lack of breasts doesn't define Teddie, it's just a part of who she is.
I also wanted to show that Teddie's breastlessness doesn't stop her from being attractive and desirable. Luckily, I was married to a supportive husband when I went through breast cancer all those years ago. Not everyone is so lucky. As I traveled the country on the cancer speaking circuit back in the day, I met single women in their thirties and forties who were concerned that their lack of breasts might hinder their romantic prospects. I also met women whose husbands had left them because they had a mastectomy. Jerks. (There's a stronger word I usually use to describe those men, but in deference to my cozy readers, I'm keeping it G-rated.)
In honor of those survivor women I met, and because of my own backstory with breast cancer, I wanted to create a strong, engaging character in her early forties whose breast cancer and subsequent breastlessness doesn't prevent her from living her best life. Or from catching the eye of a dashing Brit.
Breasts don't make a woman.
I hope readers will be captivated by my fun, resilient writer and baker Teddie St. John in my first Bookish Baker Mystery, Murder Most Sweet. And since it's Breast Cancer Awareness Month, I also hope readers will remember to get their mammograms!
About Murder Most Sweet:
Everyone in Lake Potawatomi, Wisconsin, knows Teddie St. John. Tall, curly-haired Teddie is a superb baker, a bohemian bon vivant, breast cancer survivor, and a mystery writer. Teddie is walking her American Eskimo dog, Gracie, when her four-legged friend finds Teddie's missing silk scarf. Only problem: the scarf is tied tightly around the neck of a beautiful blond woman, the fiancée of a touring British author.

Before you can say "Wisconsin kringle," Teddie becomes a murder suspect. Everyone in town knows all too well that the distinctive scarf was hers. When a second murder shocks the community, Teddie stands accused of not one, but two, murders. With the help of her Three Musketeers friends Sharon and Char, can Teddie clear her name and deliver a killer's just desserts?
Bio
Laura Jensen Walker has loved mysteries ever since she read Trixie Belden in the fourth grade. A former journalist, Laura is the author of several chick-lit novels and humorous non-fiction books. She lives in Northern California with her Renaissance-man husband and their canine daughter Mellie and is a member of Sisters in Crime and Mystery Writers of America. Murder Most Sweet is Laura's first mystery. Her second, Hope, Faith, & a Corpse, releases in January 2020. Find out more about Laura at www.laurajensenwalker.com and follow her on Twitter @LauraJensenWal1.
*****
You can order Murder Most Sweet now, and pre-order Hope, Faith, & a Corpse. Thanks for the Mammogram! is also available through the Web Store.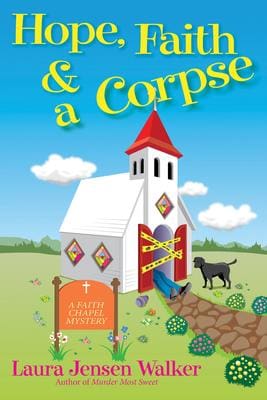 In the tradition of M. C. Beaton, Hope Taylor, pastor of a small-town California church, tries to find out who sent a church elder to Heaven.
Hope Taylor arrives in Apple Springs to start her new life as the first female pastor of Faith Chapel Episcopal Church. The northern California town's quaint cottages, bungalows, and shops promise a fresh start for the 42-year-old widow and Bogie, her scruffy black Labrador. But where is Father Christopher? The kindly old rector who hired Pastor Hope was supposed to meet her upon her arrival, but he's nowhere to be seen. Hope's faith springs eternal, so she explores the little white church hoping to find Father Christopher. But when she enters the columbarium, she instead finds church elder Stanley King–his skull crushed by a fallen burial urn.
Hope had made Stanley's acquaintance before, and had struggled to take a charitable view of his character. Stanley was as wicked as he was wealthy, as petty as he was pious. His soul may have been holy, but his behavior was wholly rotten. The last time Hope had seen him, he had shouted drunkenly that she would preach at Faith Chapel over his dead body.
Many of the townsfolk witnessed the altercation, so Hope finds herself as the prime suspect in Stanley's murder. With Bogie's four-footed assistance, Hope is determined to find the real killer and clear her name…even if it will require a bit of divine intervention.
*****