Here's Lisa Unger signing copies of Confessions on the 7:45. You'll want to pre-order your signed copy now before the Poisoned Pen's virtual event on Friday, October 9. Guest host Karin Slaughter will interview her at 4 PM MT, 7 PM ET. You can pre-order through the Web Store. https://bit.ly/2WQJrKs
Of course, you want information about the event and the book.
Virtual Event: Lisa Unger discusses Confessions on the 7:45 with special guest host Karin Slaughter. Watch the program on Facebook Live!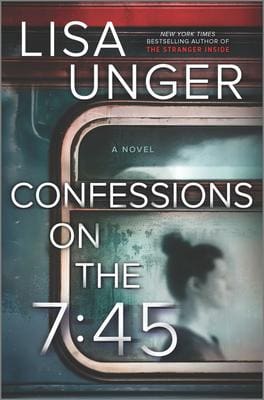 Lisa Unger. Confessions on the 7:45 (Park Row, $27.99 Signed). From master of suspense Lisa Unger comes a riveting thriller about a chance encounter that unravels a stunning web of lies and deceit.
Be careful to whom you tell your darkest secrets…
Selena Murphy is commuting home from her job in the city when the train stalls out on the tracks. She strikes up a conversation with a beautiful stranger in the next seat, and their connection is fast and easy. The woman introduces herself as Martha and confesses that she's been stuck in an affair with her boss. Selena, in turn, confesses that she suspects her husband is sleeping with the nanny. When the train arrives at Selena's station, the two women part ways, presumably never to meet again.
But days later, Selena's nanny disappears.
Soon Selena finds her once-perfect life upended. As she is pulled into the mystery of the missing nanny, and as the fractures in her marriage grow deeper, Selena begins to wonder, who was Martha really? But she is hardly prepared for what she'll discover.
Expertly plotted and reminiscent of the timeless classic Strangers on a Train, Confessions on the 7:45 is a gripping thriller about the delicate facades we create around our lives.
*****
There may still be signed copies of Karin Slaughter's The Silent Wife available as well. You can order them here. https://bit.ly/2A5kDpY
Karin Slaughter. The Silent Wife (Morrow, $28.99 Signed). The New York Times bestselling author of Pieces of Her and The Last Widow returns with another electrifying thriller.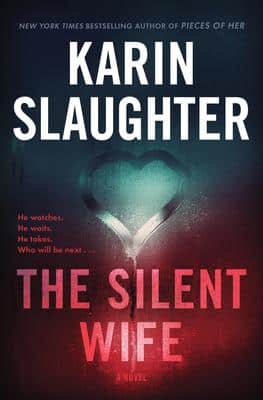 Investigating the killing of a prisoner during a riot inside a state penitentiary, GBI investigator Will Trent is confronted with disturbing information. One of the inmates claims that he is innocent of a brutal attack for which he has always been the prime suspect. The man insists that he was framed by a corrupt law enforcement team led by Jeffrey Tolliver and that the real culprit is still out there—a serial killer who has systematically been preying on women across the state for years. If Will reopens the investigation and implicates the dead police officer with a hero's reputation of wrongdoing, the opportunistic convict is willing to provide the information GBI needs about the riot murder.
Only days ago, another young woman was viciously murdered in a state park in northern Georgia. Is it a fluke, or could there be a serial killer on the loose?
As Will Trent digs into both crimes it becomes clear that he must solve the cold case in order to find the answer. Yet nearly a decade has passed—time for memories to fade, witnesses to vanish, evidence to disappear, and lies to become truth. But Will can't crack either mystery without the help of the one person he doesn't want involved: his girlfriend and Jeffrey Tolliver's widow, medical examiner Sara Linton.
When the past and present begin to collide, Will realizes that everything he values is at stake . . .
Karin Slaughter's novels have been published in 37 languages, with more than 35 million copies sold across the globe, her nineteen novels include the Grant County and Will Trent books, as well as the Edgar-nominated Cop Town and the instant New York Times bestselling novels Pretty Girlsand The Good Daughter. Her most recent novel, The Last Widow, features Sara Linton and Will Trent. A native of Georgia, Karin currently lives in Atlanta. Her novels Cop Town, The Good Daughter, and Pieces of Her are all in development for film and television.