Richard Osman's debut novel, The Thursday Murder Club, is a #1 bestseller in the UK. It received starred reviews in professional journals here in the U.S. You may or may not be able to get a signed copy through the Web Store, but you will want to order a copy of this debut. The story features four amateur sleuths who are all over seventy. Osman says the book is very British, and the humor is British. Here's the link to buy the book. https://bit.ly/32Vsd2x
Here's The Thursday Murder Club.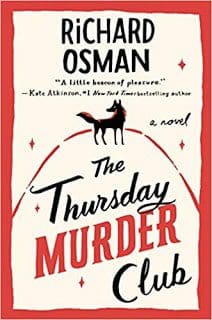 "A little beacon of pleasure in the midst of the gloom…SUCH FUN!"
–Kate Atkinson, #1 New York Times bestselling author of Big Sky

Four septuagenarians with a few tricks up their sleeves
A female cop with her first big case
A brutal murder
Welcome to…
THE THURSDAY MURDER CLUB
In a peaceful retirement village, four unlikely friends meet weekly in the Jigsaw Room to discuss unsolved crimes; together they call themselves The Thursday Murder Club.
When a local developer is found dead with a mysterious photograph left next to the body, the Thursday Murder Club suddenly find themselves in the middle of their first live case.
As the bodies begin to pile up, can our unorthodox but brilliant gang catch the killer, before it's too late?
*****
Mark Bilingham, author of Cry Baby, hosted Richard Osman for the recent virtual event at The Poisoned Pen. It's a fun conversation about British humor, habits, and murder.