John Charles at The Poisoned Pen recently hosted a virtual event with Jenn McKinlay, author of the new Library Lover's Mystery, One for the Books. She was joined by several of her author friends. Kate Carlisle is the author of the Bibliophile Mysteries, including The Grim Reader. Paige Shelton's latest Scottish Bookshop mystery is The Stolen Letter. You can order signed copies of One for the Books and The Grim Reader from the Web Store, as well as copies of Paige Shelton's books. https://store.poisonedpen.com/
Here's the description of One for the Books.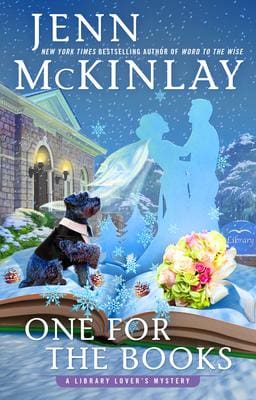 Wedding bells are ringing in the latest page-turning Library Lover's Mystery from the New York Times bestselling author of Word to the Wise.
Love is in the air in Briar Creek as library director Lindsey Norris and boat captain Mike (Sully) Sullivan are finally tying the knot. The entire town is excited for the happy day, and Lindsey and Sully's plan for a small wedding evaporates as more and more people insist upon attending the event of the year.
When Lindsey and her crafternoon pals head out to Bell Island to see if it can accommodate the ever-expanding guest list, they are horrified to discover a body washed up on the rocky shore. Even worse, Lindsey recognizes the man as the justice of the peace who was supposed to officiate her wedding ceremony. When it becomes clear he was murdered, Lindsey can't help but wonder if it had to do with the wedding. Now she has to book it to solve the mystery before it ends her happily ever after before it's even begun….
*****
You'll have fun with the video of this virtual event.