Barbara Peters, owner of The Poisoned Pen, recently hosted James R. Benn, author of the Billy Boyle mysteries, and Francine Mathews, whose latest book is Death on Tuckernuck. Benn's fifteenth mystery is The Red Horse. You can find autographed copies of both books in the Web Store. https://store.poisonedpen.com/
Here's the summary of The Red Horse.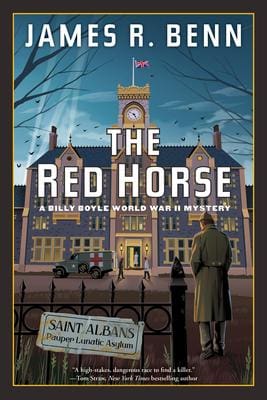 Just days after the Liberation of Paris, US Army Detective Billy Boyle and Lieutenant Kazimierz are brought to Saint Albans Convalescent Hospital in the English countryside. Kaz has been diagnosed with a heart condition, and Billy is dealing with emotional exhaustion and his recent methamphetamine abuse. Meanwhile, Billy's love, Diana Seaton, has been taken to Ravensbrück, the Nazi concentration camp for women, and Kaz's sister, Angelika, who he recently learned was alive and working with the Polish Underground, has also been captured and transported to the same camp.
This news is brought by British Major Cosgrove, who asks Billy for help, unofficially, in solving what he thinks was the murder of a British agent recuperating at Saint Albans. The convalescent hospital is really a secret installation for those in the world of clandestine warfare to recover from wounds, physical and emotional. Some are allowed to leave; others are deemed security risks and are detained there. When a second body is found, it is evident that a killer is at work in this high-security enclave. Now Billy must carry out his covert investigation while maintaining his tenuous recovery, shielding his actions from suspicious hospital authorities, and dodging the unknown murderer.
*****
Here's the description of Death on Tuckernuck.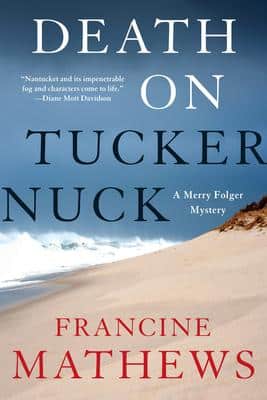 In the Category 3 winds of a late-season hurricane, Nantucket police detective Merry Folger and her team attempt a rescue off the secluded island of Tuckernuck—only to discover a deadly secret.

As a Category 3 hurricane bears down on Nantucket, Dionis Mather and her father have their work cut out for them. Their family business is to ferry goods and people back and forth from Tuckernuck, the private island off Nantucket's western tip, a place so remote and exclusive that it is off the electric grid. As caretakers of the small plot of sand in the middle of the Atlantic, the Mathers are responsible for evacuating Tuckernuck's residents, who range from a stubborn elderly native who refuses to leave her family home to the abandoned summer house pets of an absentee NFL quarterback. But as the storm surge rises and the surf warnings mount, Dionis has to make a choice: abandon whatever—or whoever—was left behind, or risk her own life by plunging back into the maelstrom. Even she has no idea what evil the hurricane is sheltering.

When the coast guard notifies the Nantucket police of a luxury yacht grounded in the shoals off Tuckernuck's northern edge—with two shooting victims lying in the main cabin—detective Meredith Folger throws herself into an investigation before the hurricane sweeps all crime-scene evidence out to sea. Merry is supposed to be on leave this weekend, dancing at her own wedding, but the Cat 3 has thrown her blissful plans into chaos. As her battered house fills with stranded wedding guests and flood waters rise all over Nantucket Island, Merry has her own choice to make: How much should she risk in order to bring a criminal to justice?
*****
Enjoy the conversation with James R. Benn and Francine Mathews.