Barbara Peters, owner of The Poisoned Pen, recently hosted authors Matt Goldman and David Ricciardi. Goldman is the author of Dead West, the fourth Nils Shapiro mystery. Ricciardi's Black Flag is the third thriller featuring CIA officer Jake Keller. Peters asked both men to talk about their books, knowing reviewers said both books are a step up for the authors. You can order signed copies of both books through the Web Store. https://store.poisonedpen.com/
You can watch the virtual event here.
Here's the description of Matt Goldman's Dead West.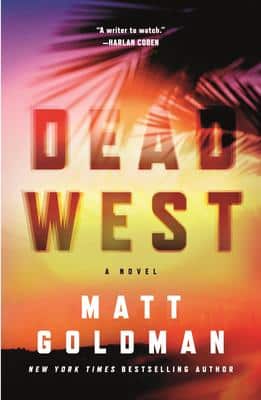 n the words of Lee Child on Gone to Dust, "I want more of Nils Shapiro." New York Times-bestselling and Emmy Award-winning author Matt Goldman happily obliges by bringing the Minneapolis private detective back for another thrilling, standalone adventure in Dead West.
Nils Shapiro accepts what appears to be an easy, lucrative job: find out if Beverly Mayer's grandson is foolishly throwing away his trust fund in Hollywood, especially now, in the wake of his fiancée's tragic death. However, that easy job becomes much more complicated once Nils arrives in Los Angeles, a disorienting place where the sunshine hides dark secrets.
Nils quickly suspects that Ebben Mayer's fiancée was murdered, and that Ebben himself may have been the target. As Nils moves into Ebben's inner circle, he discovers that everyone in Ebben's professional life—his agent, manager, a screenwriter, a producer—seem to have dubious motives at best.
With Nils' friend Jameson White, who has come to Los Angeles to deal with demons of his own, acting as Ebben's bodyguard, Nils sets out to find a killer before it's too late.
*****
Black Flag is David Ricciardi's latest book.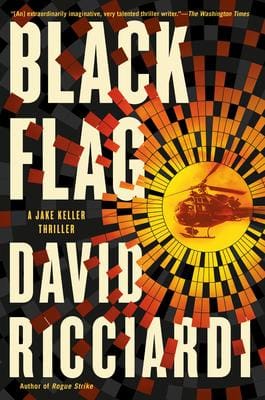 CIA officer Jake Keller faces stakes that are very high and very personal in the latest electrifying thriller from the author of Rogue Strike.

After years of relative calm, piracy has returned to the high sea.
 
But the days of AK-47s and outboard engines are over. The new pirates hit like a SEAL team. Highly trained, and using cutting edge technology, they make sure their victims are never heard from again.
 
Ships and crews are vanishing at a staggering rate.
 
As the threat to international shipping grows, U.S. authorities become determined to find the source of this new danger.
 
Jake Keller has a plan—to lure the pirate mastermind out of hiding by infiltrating his organization—but it's a dangerous gambit, made more so by Jake's personal involvement with the beautiful heiress to a Greek shipping fortune and an ulterior agenda coming out of CIA headquarters.
 
As the threats close in from all sides, Jake finds himself faced with a familiar choice: back off, or go on the offensive.
 
His fate, and the fate of a nation, hang on his decision.