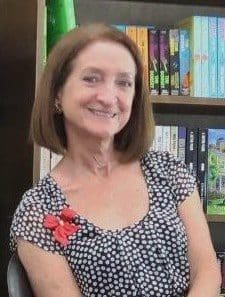 When I think of Alyssa Maxwell's books, I immediately think of the Gilded Newport mysteries. Her August 25 release, Murder at Kingscote, is the eighth book in that series. But, she's also written five A Lady & Lady's Maid mysteries. You can find Maxwell's books in the Web Store. https://bit.ly/2Y0vOcV
Alyssa Maxwell began a love affair with the city of Newport years ago. Time and again the colonial neighborhoods and grand mansions drew her to return, and on one of those later visits she met the man who would become her husband. Always a lover of history, Maxwell found that marrying into a large, generations"'-old Newport family opened up an exciting new world of historical discovery. Today, she and her husband reside in Florida, but part of her heart remains firmly in that small New England city of great historical significance. For more info please visit www.alyssamaxwell.com.
Look for Alyssa Maxwell's book suggestions in the Web Store. https://store.poisonedpen.com/
*****
I always say that if I only read books by friends, I would never run out of great reading material. The friends I've made through writing are some of the most generous and supportive I've ever known, and among the most talented. So, it's not out of obligation that I read their books, but sheer pleasure. And reading a story written by a friend is a little like having that friend over to visit at a time when social distancing defines our lives. For the most part, I've kept my reading light. Cozies might involve murder, but they're much more about solving the puzzle and getting to know characters who in many ways are just like ourselves. They make us feel less alone in times when there seem to be so few answers. So then, here are a few of the books that have kept me company and sane during the pandemic.
A Shadowed Fate, A Claire Clairmont Mystery book 2, by Marty Ambrose
A shocking revelation from an old friend leads Claire Clairmont on a dangerous quest in this second in a fascinating historical trilogy based on the "˜summer of 1816′ Byron/Shelley group.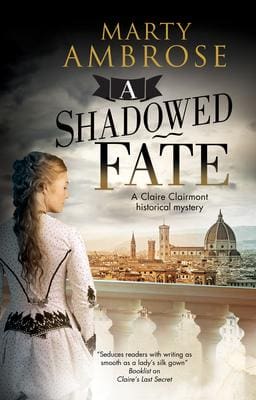 1873, Florence. Claire Clairmont, the last survivor of the "˜haunted summer of 1816′ Byron/Shelley circle, is reeling from the series of events triggered by the arrival of Michael Rossetti two weeks before, which culminated in a brutal murder and a shocking revelation from her old friend, Edward Trewlany.
Stunned by her betrayal at the hands of those closest to her, Claire determines to travel to the convent at Bagnacavallo near Ravenna to learn the true fate of Allegra, her daughter by Lord Byron. But the valuable Cades sketch given to her by Rossetti is stolen, and Claire soon finds herself shadowed at every turn and in increasing danger as she embarks on her quest. Is the theft linked to Allegra, and can Claire uncover what really happened in Ravenna so many years ago?
"Marty Ambrose does a beautiful job of bringing these literary figures to life and making them human, relatable individuals, brilliant but fallible at the same time. They might not always act the way we would want them too, but that only makes them more real. Filled with beautiful prose, gorgeous setting details, deep characterizations, mystery, danger, and redemption."
Murder at Blackwater Bend, A Stella and Lyndy Mystery book 2, by Clara McKenna
Wild-hearted Kentuckian Stella Kendrick cautiously navigates the strict demands of British high society as the future Lady of Morrington Hall. But when petty scandals lead to bloody murder, her outspoken nature could be all that keeps her alive . . .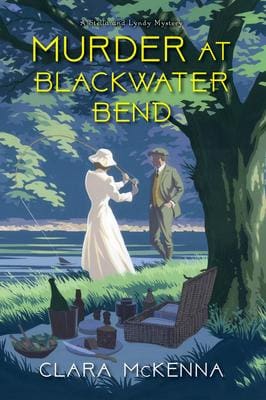 Following a whirlwind engagement to Viscount "Lyndy" Lyndhurst, Stella is finding her footing within an elite social circle in picturesque rural England. Except tea time with refined friends can be more dangerous than etiquette faux pas—especially in the company of Lady Philippa, the woman Lyndy was once set to marry, and her husband, the ostentatious Lord Fairbrother . . .
Outrage erupts and accusations fly after Lord Fairbrother's pony wins best in breed for the seventh consecutive year. The man has his share of secrets and adversaries, but Stella and Lyndy are in for a brutal shock when they discover his body floating in the river during a quiet morning fishing trip . . .
Suddenly unwelcome around hardly-grieving Lady Philippa and Lyndy's endlessly critical mother, Stella faces the bitter reality that she may always be an outsider—and one of her trusted new acquaintances may be a calculating killer. Now, Stella and her fiancé must fight against the current to catch the culprit, before they're the next couple torn apart by tragedy.
"It might sound funny to say a book about murder can also be a feel-good story, but that's exactly the case here. As in the first book, you can't help but smile, and then applaud, as American heiress Stella Kendrick continues to confound stuffy British society with her ingenuous charm and unbridled optimism. While her mother-in-law to be schemes to break the engagement between Stella and her son, the once-cynical Lyndy shows his deepening love and admiration for his intended in ways that warm the heart. The murder mystery is well crafted, with suspects from all levels of society and motives that range from infidelity to fraud to land rights in the New Forest, a setting Clara McKenna brings beautifully to life."
No Quiet Among the Shadows, A Mystery of Old San Francisco book 3, by Nancy Herriman
In a new Mystery of Old San Francisco, Celia and Nick must look for answers among the dead to stop a killer among the living . . . (Note: Unfortunately, this book is not available through the Web Store.)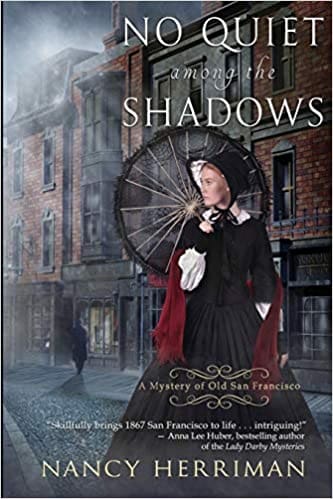 With the city's Fourth of July celebrations in full swing, Celia Davies has stolen a moment away from her nursing duties to take in the festive spectacle, but is stunned when she spots the one person she thought she'd never see again—her supposedly dead husband, Patrick. Moments later, the investigator who had confirmed Patrick's death is killed when he suspiciously falls from a high window, and Celia begins to fear that the roguish man she married has returned to haunt her life once again.
Joining forces with Detective Nick Greaves to get to the bottom of the mystery, Celia is soon drawn into a murky séance group, where the voices of the dead suggest that everyone involved in the case is engaged in some sort of fraud or deception. Determined to discover which of them might be a murderer, Celia and Nick will find themselves following a trail of clues that leads them down dark alleys into a shadowy tangle of spiritualism, altered identities, traumatic pasts, and secrets worth killing for . . .
"I loved the first two books in this series and I was delighted to be back on another adventure with Celia, Nick, and the rest of an endearing cast of characters. I loved Celia's dedication to her patients and stiff upper lipped determination to do what's right, and Nick's gentlemanly regard for her combined with his conflicted view of wanting to protect her while acknowledging that she's a capable individual. San Francisco of the 1860s comes so vividly to life with all its sights, sounds, and smells, the reader will feel they're right there on the streets with the characters, helping to solve the murder. The added mystery of Celia's husband possibly returning from "the dead" adds a secondary layer of intrigue and the promise of more to come in the series."
Here Comes the Body, by Maria DiRico
After her philandering husband's boat went down, newly single Mia Carina went back to Astoria, the bustling Queens neighborhood of her youth. Living with her nonna and her oversized cat, Doorstop, she's got a whole new life—including some amateur sleuthing . .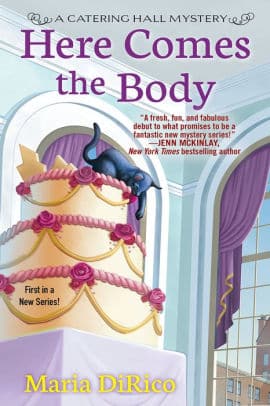 Mia is starting work at Belle View, her father's catering hall, a popular spot for weddings, office parties, and more—despite the planes that occasionally roar overhead on their way to LaGuardia and rattle the crystal chandelier. Soon she's planning a bachelor party for a less-than-gentlemanly groom. But it goes awry when the gigantic cake is wheeled in and a deadly surprise is revealed . . .
Since some of her family's associates are on the shady side, the NYPD wastes no time in casting suspicion on Mia's father. Now, Mia's going to have to use all her street smarts to keep him out of Rikers Island . . .
"Having lived in Queens as a child, reading this book was a bit like going home. I found the setting immediately recognizable, and the characters and sights sparked memories of my own childhood, which is to say the details felt completely authentic. But if I came for the memories, I stayed for the humor and the fun of watching everything go wrong that can go wrong in Mia Carina's life, forcing her to relearn how to navigate (because she's been away), all the social nuances of being an "outer borroughs" girl in New York City. Luckily Mia, and Maria DiRico, know how to find the humor in any situation, which makes this a perfect escape read on a summer's afternoon."
*****
Let me introduce you to the latest book in both of Alyssa Maxwell's series, if you haven't yet read them. As I said, they can both be found in the Web Store. https://bit.ly/2Y0vOcV
Murder at Kingscote, the eighth book in the Gilded Newport Mystery series will be released August 25. You can pre-order it now.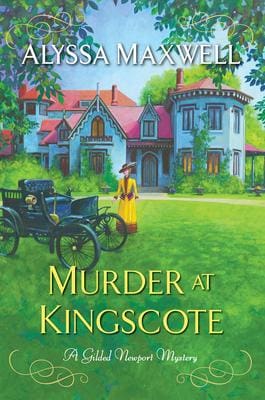 In late nineteenth-century Newport, Rhode Island, journalist Emma Cross discovers the newest form of transportation has become the newest type of murder weapon . . .

On a clear July day in 1899, the salty ocean breeze along Bellevue Avenue carries new smells of gasoline and exhaust as Emma, now editor-in-chief of the Newport Messenger, covers Newport's first-ever automobile parade. But the festive atmosphere soon turns to shock as young Philip King drunkenly swerves his motorcar into a wooden figure of a nanny pushing a pram on the obstacle course.
 
That evening, at a dinner party hosted by Ella King at her magnificent Gothic-inspired "cottage," Kingscote, Emma and her beau Derrick Andrews are enjoying the food and the company when Ella's son staggers in, obviously still inebriated. But the disruption is nothing compared to the urgent shouts of the coachman. Rushing out, they find the family's butler pinned against a tree beneath the front wheels of Philip's motorcar, close to death.
 
At first, the tragic tableau appears to be a reckless accident—one which could ruin Philip's reputation. But when Emma later receives a message informing her that the butler bullied his staff and took advantage of young maids, she begins to suspect the scene may have been staged and steers the police toward a murder investigation. But while Emma investigates the connections between a competing heir for the King fortune, a mysterious child, an inmate of an insane asylum, and the brutal boxing rings of Providence, a killer remains at large—with unfinished business to attend to.
*****
A Silent Stabbing is the fifth A Lady and Lady's Maid Mystery. The next one will be released in January.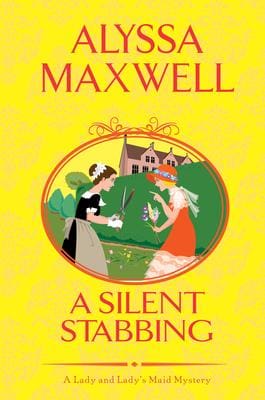 As England recovers from its costly involvement in the Great War, Lady Phoebe Renshaw and her lady's maid, Eva Huntford, find the steady comforts of their lives unsettled by a local case of murder . . .

Eva is excited for a visit from her sister Alice, who lives in Suffolk with her husband and three children. But when Alice arrives alone, desiring a break from her family, Eva becomes concerned. Her dismay deepens as Alice starts spending time with a former beau, Keenan Ripley, who owns the nearby pear orchard. At the same time, Phoebe's sister Julia, now a widow and pregnant, is in a fretful state, and Phoebe struggles to be helpful to her.
 
When Keenan's brother Stephen, the new head gardener at the Renshaw estate, Foxwood Hall, is found impaled by a pair of hedge clippers, the police—including Eva's beau, Constable Miles Brannock—suspect his closest kin. Stephen had been eager to sell their orchard to an American developer, but Keenan had fiercely resisted. A table set with two teacups and scones suggests Keenan had company the morning of the murder—and Eva fears her sister was with him.
 
If Alice were to provide Keenan with an alibi, her reputation and marriage would be ruined. She denies being there but is clearly withholding secrets, much to Eva's consternation. Now, to protect her sister, Eva and Phoebe set off to expose the gardener's real killer, putting their own lives at risk . .