Let's talk a little about Brad Thor's bestseller, Near Dark. Barbara Peters interviewed Thor for the virtual release of the book, and it's been out for several weeks now. But, as of this writing, there are still signed copies available through the Web Store. https://bit.ly/3ha63On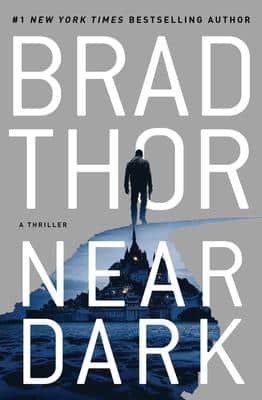 Here's the summary of the book.
"Fast-paced…pulse-pounding…supremely entertaining…His best ever." —TheWashington Times
"If you love thrillers…if you've ever read a thriller you enjoyed…if you think you *might* like a thriller…you HAVE to order Brad Thor's Near Dark. This might be the single greatest thriller I've covered on The Real Book Spy. It's amazing!" —The Real Book Spy
Scot Harvath returns in the newest thriller from #1 New York Times bestselling author Brad Thor.
The world's largest bounty has just been placed upon America's top spy. His only hope for survival is to outwit, outrun, and outlast his enemies long enough to get to the truth.
But for Scot Harvath to accomplish his most dangerous mission ever—one that has already claimed the lives of the people closest to him, including his new wife—he's going to need help—a lot of it.
Not knowing whom he can trust, Harvath finds an unlikely ally in Norwegian intelligence operative Sølvi Kolstad. Just as smart, just as deadly, and just as determined, she not only has the skills, but also the broken, troubled past to match Harvath's own.
"Not since Ian Fleming rendered James Bond a mere shell of himself in the wake of From Russia, With Love has an author pushed an icon to such depths." —Providence Journal
"Brad Thor has mastered the art of the thriller cliffhanger." —New York Journal of Books
"Brad Thor thrills yet again with Near Dark." —The San Diego Tribune
*****
Brad Thor answers some questions, such as why does Scot Harvarth's name only have one t in Scot? If you've been curious, or want to hear Thor talk about his books, you can watch the conversation here.