I guess I raved enough about Sarah Stewart Taylor's The Mountains Wild that Barbara Peters, owner of The Poisoned Pen, asked me if I wanted to interview her. It's a pleasure to reintroduce readers to the author, and introduce them to Maggie D'Arcy, the detective in Taylor's new series. You can still order a signed copy of The Mountains Wild through the Web Store. https://bit.ly/2CEvPvd
If you're looking for an atmospheric mystery set in Ireland, look no further.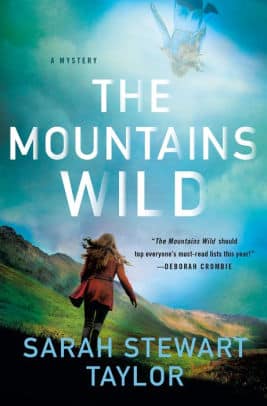 "With its evocative Dublin setting, lyrical prose, tough but sympathetic heroine, and a killer twist in the plot, Sarah Stewart Taylor's The Mountains Wild should top everyone's must-read lists this year!" — New York Times bestselling author Deborah Crombie
In a series debut for fans of Tana French and Kate Atkinson, set in Dublin and New York, homicide detective Maggie D'arcy finally tackles the case that changed the course of her life.
Twenty-three years ago, Maggie D'arcy's family received a call from the Dublin police. Her cousin Erin has been missing for several days. Maggie herself spent weeks in Ireland, trying to track Erin's movements, working beside the police. But it was to no avail: no trace of her was ever found.
The experience inspired Maggie to become a cop. Now, back on Long Island, more than 20 years have passed. Maggie is a detective and a divorced mother of a teenager. When the Gardaí call to say that Erin's scarf has been found and another young woman has gone missing, Maggie returns to Ireland, awakening all the complicated feelings from the first trip. The despair and frustration of not knowing what happened to Erin. Her attraction to Erin's coworker, now a professor, who never fully explained their relationship. And her determination to solve the case, once and for all.
A lyrical, deeply drawn portrait of a woman – and a country – over two decades – The Mountains Wild introduces a compelling new mystery series from a mesmerizing author.
*****
You can watch the conversation with Sarah Stewart Taylor here.