This current Hot Book of the Week is one of the selections for The Library of Congress Crime Classics, published by Sourcebooks/Poisoned Pen Press. C.W. Grafton, Sue Grafton's father, is the author of The Rat Began to Gnaw the Rope. You might be interested in ordering a copy of the book. https://bit.ly/3hAwjTb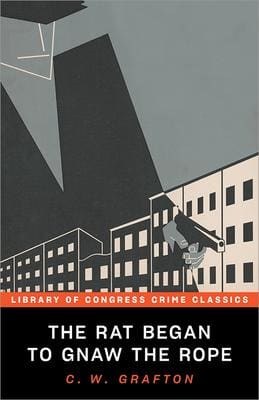 Here's the description of The Rat Began to Gnaw the Rope.
Is this lawyer digging his way to the truth, or digging his own grave?
Short, chubby, and awkward with members of the opposite sex, Gil Henry is the youngest partner in a small law firm, not a hard-boiled sleuth. So when an attractive young woman named Ruth McClure walks into his office and asks him to investigate the value of the stock she inherited from her father, he thinks nothing of it—until someone makes an attempt on his life.
Soon Gil is inadvertently embroiled in scandal, subterfuge, and murder. He's beaten, shot, and stabbed, as his colleagues and enemies try to stop him from seeing the case through to the end. Surrounded by adversaries, he teams up with Ruth and her secretive brother to find answers to the questions someone desperately wants to keep him from asking.
In this portrait of America on the eve of America's entry into World War II, C.W. Grafton—himself a lawyer and the father of prolific mystery writer Sue Grafton—pens an award-winning mystery that combines humor and the hard-boiled style and will keep readers guessing until its thrilling conclusion.
*****
Leslie Klinger, editor of The Library of Congress Crime Classics series, recently talked about the book and the line with Barbara Peters, owner of The Poisoned Pen.