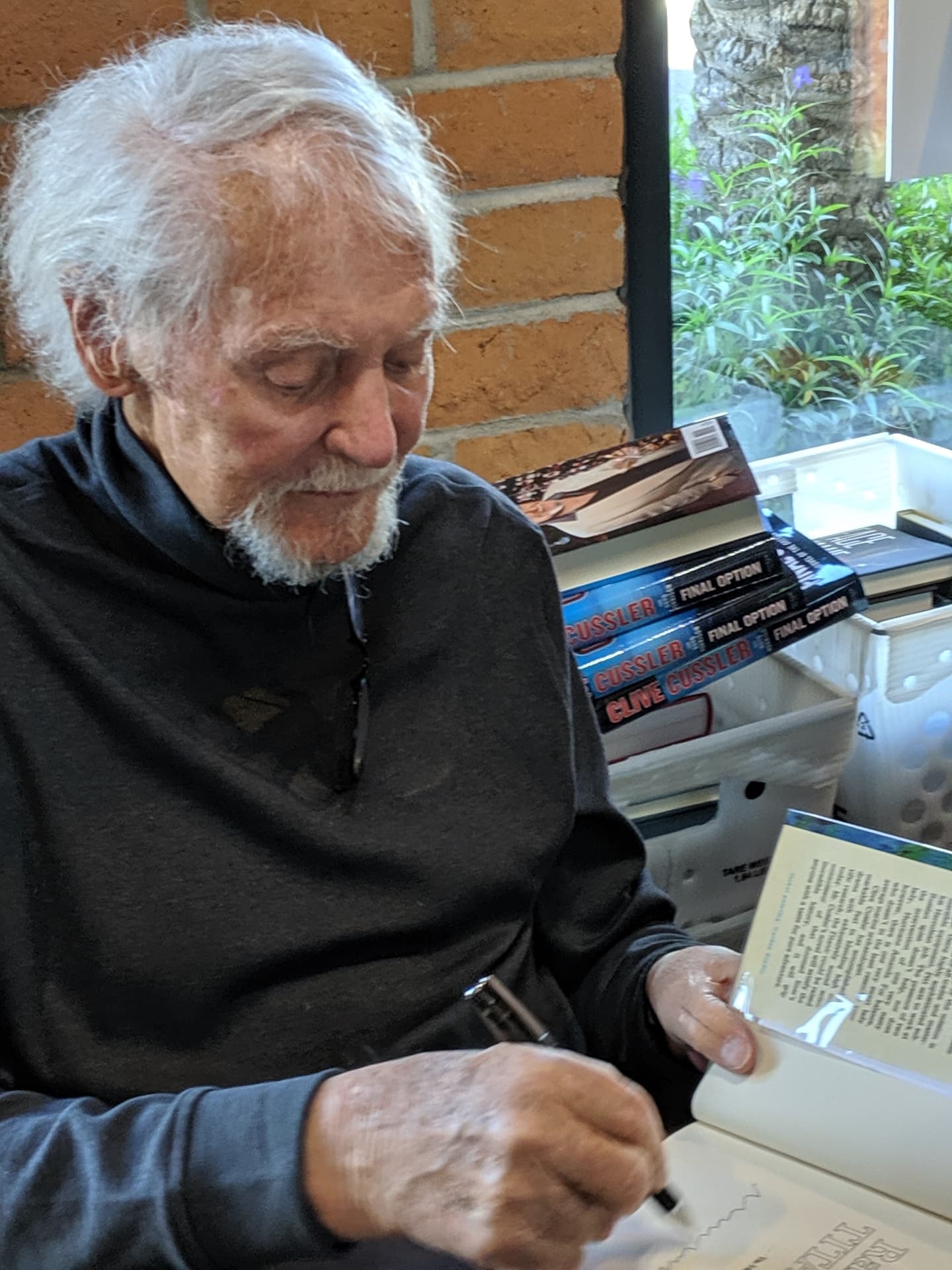 Clive Cussler, an author whose works were beloved by so many readers, died on Monday, February 24, 2020.
The Poisoned Pen was privileged to be the source for all things Cussler. The bookstore handled his signed books and hosted events both at the bookstore and off-premises. He will be missed. For those of you looking for signed copies, please call the bookstore to find out what stock is still available. Phone:(480) 947-2974 or Toll Free (888) 560-9919
We would like to acknowledge Clive Cussler's life and death by sharing the official statement from his publisher, G.P. Putnam's Sons.
#1 New York Times, USA Today, and Wall Street Journal bestselling "Grandmaster of Adventure" and publishing legend Clive Cussler died on Monday, February 24, 2020 at his home in Scottsdale, AZ. He was 88.
Clive Cussler was born on July 15, 1931. For over four decades, his exceptional adventure novels have enraptured millions of readers around the world. Cussler's fans have met Dirk Pitt, the director of the National Underwater and Marine Agency (which exists not only in fiction, but is also a veritable organization of which Cussler was chairman); Sam and Remi Fargo, the husband-and-wife treasure hunters; Isaac Bell, the twentieth-century chief investigator; Kurt Austin, team leader of NUMA's Special Assignments division; and Juan Cabrillo, chairman of the mysterious Corporation that is based on the Oregon. These dynamic characters were all, in one way or another, an extension of Cussler himself. With a penchant for exploration and limitless curiosity about everything from marine biology to antique automobiles, it's no wonder that Cussler was called the "Grandmaster of Adventure."
Born in 1931, Clive Cussler started writing after years in the Air Force and working as a copywriter and creative director at advertising agencies. His first novel, the Edgar Award nominated The Mediterranean Caper, was published in 1973, setting off a legendary career that has resulted in 84 books, which have been translated into more than 40 languages in over 100 countries. In addition to writing his five perennially bestselling fiction series, Cussler is also the author of five non-fiction titles and two children's books. Almost every single one of his books has been an instant bestseller, including eleven #1 New York Times bestsellers (Flood Tide, Valhalla Rising, Polar Shift, The Jungle, The Thief, The Storm, Havana Storm, The Gangster, The Emperor's Revenge, The Cutthroat, and The Rising Sea) as well as the #1 non-fiction bestseller, The Sea Hunters.
In 1997, Cussler was awarded the Doctor of Letters degree by SUNY Maritime College for his non-fiction work, The Sea Hunters, the first time in the college's history that such a degree was bestowed. Cussler has also been awarded the Naval Heritage Award from the U.S. Navy Memorial Foundation, NOGI Award, Lowell Thomas Award, Strand Magazine's Lifetime Achievement Award, and other notable accolades.
Cussler was the Founder and Chairman of the National Underwater and Marine Agency (NUMA), which dedicates itself to American maritime and naval history. First conceptualized in his fiction, the real-life organization is prolific, with its volunteers discovering more than sixty shipwreck sites and numerous other notable underwater wrecks, including the first submarine to sink a ship in battle, the Confederacy's Hunley, and its victim, the Union's Housatonic; the U-20, the U-boat that sank the Lusitania; the Cumberland, which was sunk by the famous ironclad, Merrimack; the renowned Confederate raider Florida; the Navy airship, Akron; the Republic of Texas Navy warship, Zavala, found under a parking lot in Galveston, Texas; and the Carpathia, which sank almost six years to the day after plucking Titanic's survivors from the sea.
Cussler was also known for his outstanding collection of antique automobiles, a passion that he catalogued in his books Built for Adventure and Built to Thrill. Like his protagonists, Cussler's taste is unparalleled when it comes to classic cars, and his full collection is unrivalled.
A longtime Arizona resident, he was preceded by his first wife, Barbara, and is survived by his second wife, Janet, his three children Teri, Dirk and Dayna, four grandchildren and four greatgrandchildren. Plans for a memorial service are in the works.
Clive' last collaboration with Graham Brown, Journey of the Pharaohs, publishes on March 10. Graham has agreed to sign the Poisoned Pen copies. Other collaborations are forthcoming, and we will update on plans for those.