If you like humor, you might be ready for the twenty-third Serge Storms novel by Tim Dorsey. Naked Came the Florida Man is the current Hot Book of the Week at The Poisoned Pen. Copies of Dorsey's earlier books, along with the signed copies of Naked Came the Florida Man, are available through the Web Store. https://bit.ly/2w5knWa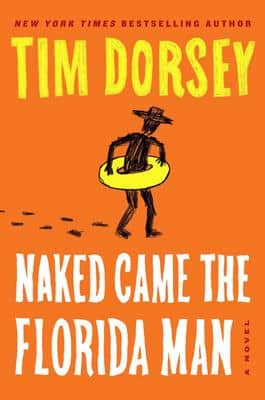 Here's the description of Naked Came the Florida Man.
"Can it still be hurricane season? Must be, because here comes Serge A. Storms and his perpetually stoned bro, Coleman, in Tim Dorsey's gonzo crime caper." ""New York Times Book Review
The "compulsively irreverent and shockingly funny" (Boston Globe) Tim Dorsey returns with an insanely entertaining tale in which the inimitable Serge A. Storms sees dead people and investigates a creepy urban myth that may be all too real.

Though another devastating hurricane is raking Florida, its awesome power can't stop the Sunshine State's most loyal son, Serge A. Storms, from his latest scenic road trip: a cemetery tour. With his best bro Colman riding shotgun, Serge hits the highway in his '69 gold Plymouth Satellite, putting pedal to the metal on a grand tour of the past. Beginning in Key West, the sunshine boys' odyssey includes a forgotten mass grave in Palm Beach county holding the remains of African Americans killed by the Great Hurricane of 1928, and the resting place of one world-famous television dolphin (RIP Flipper) from the 1960s.
But one deadland—a haunted old sugar field—holds more than just the bones of those who've passed. For years, local children have whispered about a boogeyman hiding among the stalks. Could it be the same maniac known as Naked Florida man who's been raising hell all over the place?
There are few things Serge loves more than solving a good mystery and bestowing justice on miscreants who sully his beloved home's good name. With his partner bong boy, Florida's psycho superhero will find the truth in this hilariously violent delight—packed with history, lore, and plenty of motel antics—from the insanely ingenious Tim Dorsey.