Sourcebooks/Poisoned Pen Press author Ann Parker has been writing a mystery series set in the Old West since 2003. The titles in her Silver Rush series have been award winners and nominees. You can find signed copies of the most recent book in that series, Mortal Music, along with her other books, in the Web Store. https://bit.ly/31eKfuj
This background makes Parker an excellent choice to write the article, "Women Writers are Bringing New Mystery to the Old West" for CrimeReads. Here's the article. https://crimereads.com/women-writers-westerns/
And, here's the information about the seventh book in Parker's series, Mortal Music.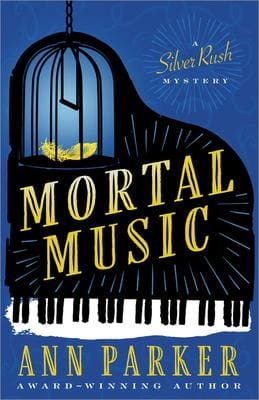 In this new adventure in the award-winning Silver Rush mystery series, pianist Inez Stannert must track down a murderer before he silences a famous vocalist—forever…
All Inez Stannert wants for Christmas is for the struggling music store she owns in San Francisco to be a success. When diva Theia Carrington Drake asks Inez to be her accompanist for several high-profile personal appearances, Inez is thrilled. This is the chance she was waiting for—a way to make some extra money and bring her store into the limelight of the city's polite society to enhance her business.
But things are far from pitch perfect. An unknown threat is stalking Theia; her pet bird is found slain, and her signature gown is destroyed. Soon, Inez realizes that a murderer is stalking the city's opera halls, and that it's only a matter of time before Theia is his next victim. She'll have to enlist the help of private investigator Wolter Roeland de Bruijn and uncover the killer before Theia's celebrated voice is silenced—permanently.
Other Titles in the Silver Rush Mysteries Series:
Silver Lies
Iron Ties
Leaden Skies
What Gold Buys
A Dying Note