The Poisoned Pen hosted a historical mystery evening recently. Even the moderator, Dianne Freeman, is the author of a historical mystery series, The Countess of Harleigh mysteries. She introduced and questioned Ann Parker, author of the Sourcebooks/Poisoned Pen Press Silver Rush mysteries, and Rosemary Simpson, author of the Gilded Age Mysteries. Parker's latest is Mortal Music, and Simpson's new book, the fourth in her series, is Death Brings a Shadow. Books by both authors, including signed copies of their latest books, can be found in the Web Store. https://store.poisonedpen.com
You can enjoy the event here.
Mortal Music is the seventh in Ann Parker's Silver Rush series.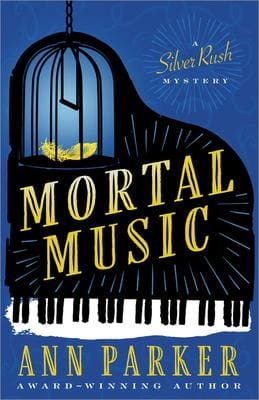 n this new adventure in the award-winning Silver Rush mystery series, pianist Inez Stannert must track down a murderer before he silences a famous vocalist—forever…
All Inez Stannert wants for Christmas is for the struggling music store she owns in San Francisco to be a success. When diva Theia Carrington Drake asks Inez to be her accompanist for several high-profile personal appearances, Inez is thrilled. This is the chance she was waiting for—a way to make some extra money and bring her store into the limelight of the city's polite society to enhance her business.
But things are far from pitch perfect. An unknown threat is stalking Theia; her pet bird is found slain, and her signature gown is destroyed. Soon, Inez realizes that a murderer is stalking the city's opera halls, and that it's only a matter of time before Theia is his next victim. She'll have to enlist the help of private investigator Wolter Roeland de Bruijn and uncover the killer before Theia's celebrated voice is silenced—permanently.
Other Titles in the Silver Rush Mysteries Series:
Silver Lies
Iron Ties
Leaden Skies
What Gold Buys
A Dying Note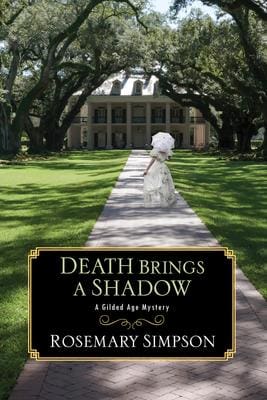 Here's the description of Rosemary Simpson's Death Brings a Shadow.
Investigators Prudence MacKenzie and ex-Pinkerton Geoffrey Hunter discover all that glitters is not gold in the Gilded Age, whether on the island of Manhattan or an island off the coast of Georgia …

DEATH BRINGS A SHADOW

In spring 1889, Prudence and Geoffrey set sail from New York Harbor on a private yacht bound for Bradford Island, where her friend Eleanor Dickson is to be wed. The Sea Islands along the Georgia coast serve as a winter playground for the likes of the Carnegies, Rockefellers, Vanderbilts, and Dicksons. Despite her Yankee pedigree, Eleanor is marrying a Southern gentleman, Teddy Bennett, and Prudence is thrilled to be the maid of honor.

But days before the wedding, the bride is nowhere to be found. A frantic search of the island turns up her drowned corpse in an alligator-infested swamp. Prudence is devastated, but as they prepare the body for burial, she and Geoffrey discover evidence of bruising that indicates Eleanor was held under—most dishonorably murdered.
 
Determined to seek justice for her beloved friend, Prudence begins to investigate with Geoffrey's help and is quickly led into a morass of voodoo spells and dark deeds from the days of slavery. As Prudence and Geoffrey pursue a killer, they soon discover that Eleanor will not be the last to die on Bradford Island …