On Monday, January 13, Janet Rudolph's Mystery Fanfare announced the Lefty Award Nominations for 2020. Check the Web Store for the nominated books. https://store.poisonedpen.com/ Congratulations to all of the nominees, with a special shout-out to Wendall Thomas whose Drowned Under is from Poisoned Pen Press.
Here are the nominations, as announced.
LEFTY AWARD NOMINATIONS: Left Coast Crime 2020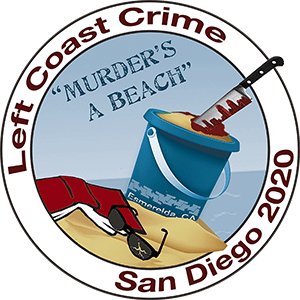 Left Coast Crime 2020, "Murder's a Beach," will be presenting four Lefty Awards at the 30th annual LCC convention, to be held in San Diego in March: humorous, historical, debut, and best. The awards will be voted on at the convention and presented at a banquet on Saturday, March 14, at the Marriot Mission Valley in San Diego. The award nominees have been selected by this and last years' convention registrants.LCC is delighted to announce the 2020 Lefty nominees for books published in 2019. Congratulations to all!
Lefty for Best Humorous Mystery Novel:
"¢Fatal Cajun Festival, by Ellen Byron (Crooked Lane)
"¢Murder from Scratch, by Leslie Karst (Crooked Lane)
"¢The Subject of Malice, by Cynthia Kuhn (Henery Press)
"¢Scot & Soda, by Catriona McPherson (Midnight Ink)
"¢Drowned Under, by Wendall Thomas (Poisoned Pen Press)
Lefty for Best Historical Mystery Novel (for books set before 1970):
"¢Murder Knocks Twice, by Susanna Calkins (Minotaur)
"¢The Pearl Dagger, by L.A. Chandlar (Kensington)
"¢A Lady's Guide to Gossip and Murder, by Dianne Freeman (Kensington)
"¢The Body in Griffith Park, by Jennifer Kincheloe (Seventh Street)
"¢The Satapur Moonstone, by Sujata Massey (Soho Crime)
Lefty for Best Debut Mystery Novel:
"¢The Ninja Daughter, by Tori Eldridge (Agora)
"¢Miracle Creek, by Angie Kim (Sarah Crichton)
"¢One Night Gone, by Tara Laskowski (Graydon House)
"¢Three-Fifths, by John Vercher (Agora)
"¢Murderabilia, by Carl Vonderau (Midnight Ink)
Lefty for Best Mystery Novel (not in other categories):
"¢Your House Will Pay, by Steph Cha (Ecco)
"¢Borrowed Time, by Tracy Clark (Kensington)
"¢Lost Tomorrows, by Matt Coyle (Oceanview)
"¢They All Fall Down, by Rachel Howzell Hall (Forge)
"¢Heaven, My Home, by Attica Locke (Mulholland)
The Left Coast Crime Convention is an annual event sponsored by mystery fans, both readers and authors. Held in the western half of North America, LCC's intent is to host an event where readers, authors, critics, librarians, publishers, and other fans can gather in convivial surroundings to pursue their mutual interests. Lefty Awards have been given since 1996.The 30th annual Left Coast Crime Convention will take place in San Diego, California, March 12″"15, 2020. This year's Guests of Honor are authors Rachel Howzell Hall and T. Jefferson Parker. Mysterious Galaxy Bookstore is the Fan Guest of Honor, and author Matt Coyle will serve as Toastmaster.