Tarryn Fisher, author of The Wives, was recently at The Poisoned Pen, in conversation with Barbara Peters, owner of the bookstore. You can learn quite a bit about the author as the two discuss Fisher's popular Instagram account, and her background in South Africa, where she lived until she was thirteen. And, they tried not to give away any spoilers as they discussed her new book. You can order signed copies of The Wives through the Web Store. https://bit.ly/37KCkH7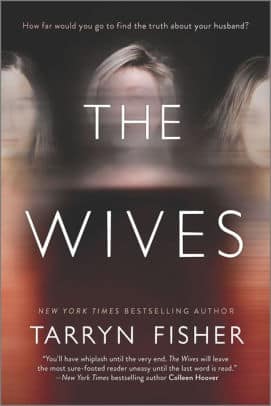 Here's the description of The Wives.
New York Times bestselling author Tarryn Fisher delivers a pulse-pounding, fast-paced suspense novel that will leave you breathless. A thriller you won't be able to put down!
"You'll have whiplash until the very end."—New York Times bestselling author Colleen Hoover
Thursday's husband, Seth, has two other wives. She's never met them, and she doesn't know anything about them. She agreed to this unusual arrangement because she's so crazy about him.
But one day, she finds something. Something that tells a very different—and horrifying—story about the man she married.
What follows is one of the most twisted, shocking thrillers you'll ever read.
You'll have to grab a copy to find out why.
"Nail-biting, heart-clenchingly good."—New York Times bestselling author Alexandra Torre
"[A] lightning-fast plot."—Kirkus
"Suspense fans will be rewarded."—Publishers Weekly
"Some sharp twists."—Booklist
*****
Now, you can eavesdrop on that conversation.