If you haven't read Tracy Chevalier's books, you probably recognize her name as the author of Girl with a Pearl Earring. She's also the author of the current Hot Book of the Week at The Poisoned Pen, A Single Thread. You can find signed copies of that book in the Web Store. https://bit.ly/34itSO0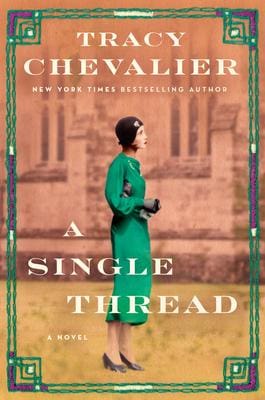 Here's the description of A Single Thread.
"A buoyant tale about the path to acceptance and joy–beginning, like all journeys, with one brave step."–People

"The best-selling novelist has done a masterful job of depicting the circumstances of a generation of women we seldom think about: the mothers, sisters, wives and fiances of men lost in World War I, whose job it was to remember those lost but not forgotten."–Associated Press

Most Anticipated Books of Fall 2019 (TIME) | Best Books of Fall (PopSugar) | 5 Books Not To Miss (USA TODAY) | 50 Best Books of the Year (GOOD HOUSEKEEPING) | One of the New York Post's Fall Novels Everyone's Talking About | 13 Fall Best New Books Written by Women (Parade) | One of the New York Times Book Review's New & Noteworthy | One of Chicago Sun Times' "Books Not to Miss" | One of Real Simple's Best Books of 2019 So Far
1932. After the Great War took both her beloved brother and her fiancé, Violet Speedwell has become a "surplus woman," one of a generation doomed to a life of spinsterhood after the war killed so many young men. Yet Violet cannot reconcile herself to a life spent caring for her grieving, embittered mother. After countless meals of boiled eggs and dry toast, she saves enough to move out of her mother's place and into the town of Winchester, home to one of England's grandest cathedrals. There, Violet is drawn into a society of broderers–women who embroider kneelers for the Cathedral, carrying on a centuries-long tradition of bringing comfort to worshippers.
Violet finds support and community in the group, fulfillment in the work they create, and even a growing friendship with the vivacious Gilda. But when forces threaten her new independence and another war appears on the horizon, Violet must fight to put down roots in a place where women aren't expected to grow. Told in Chevalier's glorious prose, A Single Thread is a timeless story of friendship, love, and a woman crafting her own life.