Nicholas Meyer recently appeared at The Poisoned Pen, talking about his latest Sherlock Holmes novel, The Adventure of the Peculiar Protocols. You can catch that event here.
Why do I bring it up again? Adam Langer just interviewed Meyer for CrimeReads, in an article, "26 Years Later, Nicholas Meyer is Returning to Sherlock Holmes. Why Now?" https://bit.ly/34LQPcr
If the video and the article intrigue you, you might want to pick up a signed copy of The Adventure of the Peculiar Protocols through the Web Store. https://bit.ly/33s8plu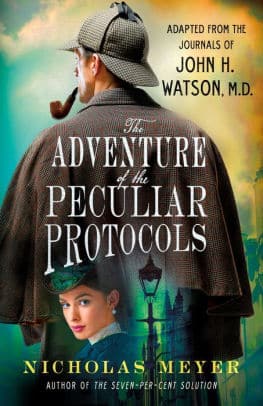 With the international bestseller The Seven-Per-Cent Solution, Nicholas Meyer brought to light a previously unpublished case of Sherlock Holmes, as recorded by Dr. John H. Watson. Now Meyer returns with a shocking discovery—an unknown case drawn from a recently unearthed Watson journal.
January 1905: Holmes and Watson are summoned by Holmes' brother Mycroft to undertake a clandestine investigation. An agent of the British Secret Service has been found floating in the Thames, carrying a manuscript smuggled into England at the cost of her life. The pages purport to be the minutes of a meeting of a secret group intent on nothing less than taking over the world.
Based on real events, the adventure takes the famed duo—in the company of a bewitching woman—aboard the Orient Express from Paris into the heart of Tsarist Russia, where Holmes and Watson attempt to trace the origins of this explosive document. On their heels are desperate men of unknown allegiance, determined to prevent them from achieving their task. And what they uncover is a conspiracy so vast as to challenge Sherlock Holmes as never before.