Tim Maleeny's latest Cape Weathers Mystery, Boxing the Octopus, is the current Hot Book of the Week at The Poisoned Pen. Maleeny's books, including signed copies of Boxing the Octopus, are available through the Web Store. https://bit.ly/2Wq5M0U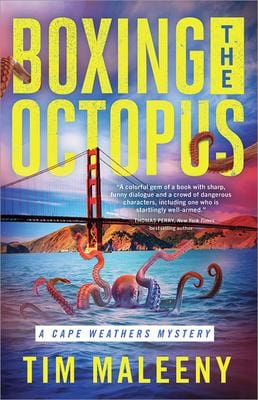 Here's the description of Boxing the Octopus.
If you're gonna box an octopus, best bring some extra arms
At the height of tourist season, an armored car drives off a crowded pier and sinks to the bottom of San Francisco Bay. By the time divers find the wreck, the cash is gone and the driver has vanished. The police are convinced it's an inside job, but local merchant Vera Young, whose boyfriend drove the armored car, claims it was much more than a simple heist.
Vera swears the missing driver is innocent and wants him found before the police can throw him in jail. Private investigator Cape Weathers reluctantly takes the case but warns Vera that her boyfriend is likely guilty-or dead. What starts as a manhunt uncovers a criminal conspiracy of money laundering, illegal drug testing, and a network of corporations willing to do anything to protect their stock price. It's a case that Cape can't get his arms around, and his relationship with Vera is getting complicated while the list of people who want him dead is getting longer.
Boxing The Octopus is a runaway tour of San Francisco's underworld which reminds us that when things get out of hand, having eight arms is always better than two.