At Bouchercon, the World Mystery Convention in Dallas, the Macavity and Barry Awards were announced this weekend. Check the Web Store for copies of the books. https://store.poisonedpen.com
Congratulations first to Lou Berney, author of November Road. He's on a roll. His book, November Road, already won the Hammett and Lefty Awards for Best Novel. This weekend, it won the Barry and Macavity Awards as well.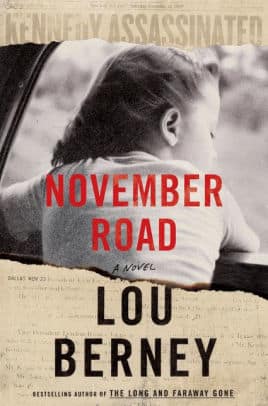 Here are all of the awards, beginning with the Macavity Awards. The Macavity Awards are nominated by members of Mystery Readers International, subscribers to Mystery Readers Journal and friends of MRI.
Best Novel
November Road by Lou Berney (William Morrow)
Best First Novel 
Dodging and Burning by John Copenhaver (Pegasus Books)
Best Nonfiction 
The Real Lolita: The Kidnapping of Sally Horner and the Novel That Scandalized the World by Sarah Weinman (HarperCollins)
Best Short Story 
"English 398: Fiction Workshop" by Art Taylor (Ellery Queen's Mystery Magazine, Jul/Aug 2018)
Sue Feder Memorial Award for Best Historical Mystery 
The Widows of Malabar Hill by Sujata Massey (Soho Crime)
Here are the winners of the Barry Awards, announced by Deadly Pleasures Mystery Magazine.
Best Novel
Lou Berney, NOVEMBER ROAD (Morrow)
Best First Novel
C. J. Tudor, THE CHALK MAN (Crown)
Best Paperback Original
Dervla McTiernan, THE RUIN (Penguin)

Best Thriller
Dan Fesperman, SAFE HOUSES (Knopf)