The third book in Annie Hogsett's Somebody's Bound to Wind Up Dead mystery series has just been released from Sourcebooks/Poisoned Pen Press. Hogsett takes readers back to Cleveland in The Devil's Own Game. You can order all of the books in the series through the Web Store. https://bit.ly/2nV6Lt4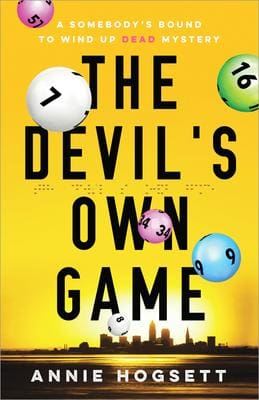 Here's the description of the latest book.
The murder is the message
What you don't see is what you get. When a sniper targets a blind man walking along the lagoon of the Cleveland Museum of Art, the bullet is a wake-up call aimed straight for Allie Harper and Tom Bennington, shattering their illusion that the Mondo Mega Jackpot Nightmare is over.
On the day Allie—sassy, lonely, broke—met Tom—smart, hot, blind—he won $500 million trying to show a kid that gambling doesn't pay. Romance—and multiple murders—ensued, along with a new, opulent lifestyle that the couple had never dreamed possible. Then a ruthless man of formidable skills and resources hacked into the security system in their rented 9,000 square-foot lakeside mansion, and they learned just how far someone who begrudges their good fortune would go to destroy them. Now they know the past six months of peace and quiet were the calm before a rising storm of mayhem and revenge.
The new game begins tonight. An old devil. A new devil. And a new case for The T&A Detective Agency. (Yes. They should have put Allie's initial first.) Tom and Allie aren't on the case long before they discover a strong lead that takes them into the heights of Cleveland's upper-crust, where husbands and wives weave webs of betrayal with unfathomable sums of money at the center. As the threats""and murders—multiply, Allie, Tom, and the T&A must fight to beat the devil's own game. Will they get out alive?
Somebody's Bound to Wind Up Dead series:
Too Lucky to Live (Book 1)
Murder to the Metal (Book 2)
The Devil's Own Game (Book 3)
Praise for Annie Hogsett:
"The original voice, humor, and unusual premise will appeal to Janet Evanovich readers." —Library Journal STARRED review for Too Lucky to Live
"Fast pacing, multiple plot twists, and humor, including a Stephanie Plum-like main character, enliven the story and keep the pages turning." —Booklist for Too Lucky to Live
"The bittersweet mystery, with the open-ended threat of a villainous mastermind, is reminiscent of P.J. Tracy's early 'Monkeewrench' novels." —Library Journal for Murder to the Metal
*****
The reviews mention that original main character. The mysteries, and the characters themselves, sometimes come as a surprise to Hogsett. She talks about the surprises that come to the author in a recent article for Bookreporter.com. You might want to check out Annie Hogsett's piece, "When a Mystery Blindsides You" https://bit.ly/32n9zOt.