Deborah Crombie is doing a limited book tour for her eighteenth Duncan Kincaid/Gemma James book, A Bitter Feast, but, of course she came to The Poisoned Pen. This is also the mystery for October's British Crime Club. You can still order a signed copy of the book through the Web Store. https://bit.ly/32fmP7O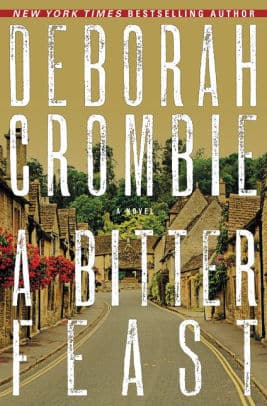 Here's the description of A Bitter Feast.
"Crombie's characters are rich, emotionally textured, fully human. They are the remarkable creations of a remarkable writer."—Louise Penny
New York Times bestselling author Deborah Crombie returns with a mesmerizing entry in her "excellent" (Miami Herald) series, in which Scotland Yard detectives Duncan Kincaid and Gemma James are pulled into a dangerous web of secrets, lies, and murder that simmers beneath the surface of a tranquil Cotswolds village.
Scotland Yard Detective Superintendent Duncan Kincaid and his wife, Detective Inspector Gemma James, have been invited for a relaxing weekend in the Cotswolds, one of Britain's most enchanting regions, famous for its rolling hills, golden cottages, and picturesque villages.
Duncan, Gemma, and their children are guests at Beck House, the family estate of Melody Talbot, Gemma's detective sergeant. The Talbot family is wealthy, prominent, and powerful—Melody's father is the publisher of one of London's largest and most influential newspapers. The centerpiece of this glorious fall getaway is a posh charity harvest luncheon catered by up-and-coming chef Viv Holland. After fifteen years in London's cut-throat food scene, Viv has returned to the Gloucestershire valleys of her childhood and quickly made a name for herself with her innovative meals based on traditional cuisine but using fresh local ingredients. Attended by the local well-to-do as well as national press food bloggers and restaurant critics, the event could make Viv a star.
But a tragic car accident and a series of mysterious deaths rock the estate and pull Duncan and Gemma into the investigation. It soon becomes clear that the killer has a connection with Viv's pub—or, perhaps, with Beck House itself.
Does the truth lie in the past? Or is it closer to home, tied up in the tangled relationships and bitter resentments between the staff at Beck House and Viv's new pub? Or is it more personal, entwined with secrets hidden by Viv and those closest to her?
*****
If you're an Anglophile or a fan of Crombie's books, or want to learn more about British cuisine, you'll want to pick up A Bitter Feast. Barbara Peters, owner of The Poisoned Pen, has hosted Deborah Crombie for all of her books, and she's interviewed her at conferences as well. Now, you can also enjoy the latest book conversation between the two.