Mary Anna Evans, author of the Faye Longchamp mysteries, will be at The Poisoned Pen on Saturday, Sept. 28 at 2:00 PM. She'll be signing the latest in her archaeological mystery series, Catacombs. You can order copies of Evans' books, including Catacombs, though the Web Store. https://bit.ly/2IrcqLo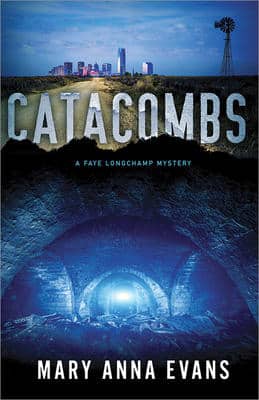 With Evans' appearance at the bookstore, it's the perfect time to share a link to an article she wrote for CrimeReads, "On Archaeology and Crime Fiction". You can find the article here. https://bit.ly/2nraOMY
Here's the summary of Evans' Catacombs.
What secrets lie deep beneath the surface?
A deafening explosion rocks a historic Oklahoma City hotel, sending archaeologist Faye Longchamp-Mantooth crashing to the marble floor of the lobby. She's unhurt but shaken—after all, any time something blows up in Oklahoma City, the first word on everyone's lips is the same: bomb.
Faye is in town for a conference celebrating indigenous arts, but is soon distracted by the aftermath of the explosion, which cracks open the old hotel's floor to reveal subterranean chambers that had housed Chinese immigrants a century before. Faye is fascinated by the tunnels, which are a time capsule back to the early 20th century—but when the bodies of three children are discovered deep beneath the city, her sense of discovery turns to one of dread…