What Rose Forgot by Nevada Barr is the current Hot Book of the Week at The Poisoned Pen. Don't believe us? Check out Kim Ode's review in The Orlando Sentinel. https://bit.ly/2kH2yaV
Now that you've read the review, you can order Barr's books, including a signed copy of What Rose Forgot, though the Web Store. https://bit.ly/2kH2SXb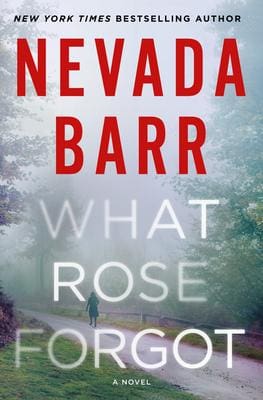 Here's the Web Store summary of What Rose Forgot.
* POPSUGAR's "New Thrillers That Should Be on Your Radar This Year"
* Women.com's "12 New September Books Worth Canceling Plans For"
In New York Times bestselling author Nevada Barr's gripping standalone, a grandmother in her sixties emerges from a mental fog to find she's trapped in her worst nightmare
Rose Dennis wakes up in a hospital gown, her brain in a fog, only to discover that she's been committed to an Alzheimer's Unit in a nursing home. With no memory of how she ended up in this position, Rose is sure that something is very wrong. When she overhears one of the administrators saying about her that she's "not making it through the week," Rose is convinced that if she's to survive, she has to get out of the nursing home. She avoids taking her medication, putting on a show for the aides, then stages her escape.
The only problem is—how does she convince anyone that she's not actually demented? Her relatives were the ones to commit her, all the legal papers were drawn up, the authorities are on the side of the nursing home, and even she isn't sure she sounds completely sane. But any lingering doubt Rose herself might have had is erased when a would-be killer shows up in her house in the middle of the night. Now Rose knows that someone is determined to get rid of her.
With the help of her computer hacker/recluse sister Marion, thirteen-year old granddaughter Mel, and Mel's friend Royal, Rose begins to gather her strength and fight back—to find out who is after her and take back control of her own life. But someone out there is still determined to kill Rose, and they're holding all the cards.