If you only know William Kent Krueger from his beautiful standalone, Ordinary Grace, or his Cork O'Connor mysteries, now you have the chance to meet him at The Poisoned Pen on Thursday, September 5 at 7 PM. Krueger's on tour for his new standalone, This Tender Land. If you can't make it to the event, you can order a signed copy through the Web Store. https://bit.ly/2ksjS2X (William Kent Krueger is one of the few authors who makes me cry when he talks about books. You'll want to attend the event if you can.)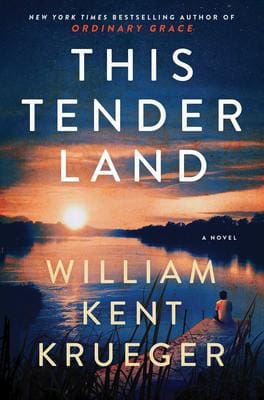 Before the summary, here's a note from William Kent Krueger.
The best stories are those that come most deeply from an author's heart. This Tender Land is a story that began to take shape in my heart long ago. At first, it whispered to me gently. With each passing year, its voice became a bit louder, more insistent, until finally it fairly shouted at me to be written. I knew it would be the most ambitious project I've ever undertaken, epic in proportion and intimate in detail. I wanted to use this story to talk about things important to me—family, home, our capacity for generosity in the face of great privation, and the difficulties that confront us all in our spiritual journey. I knew there would be great risks in this undertaking, that I would be asking a lot of myself and of my readers, but that lovely voice from my heart told me I had no choice. The story had to be written.
Although I care about the characters in every novel I compose, I fell deeply in love with the four Vagabonds. As I prepared to have them embark on their long river odyssey in the summer of 1932, I knew they would be greatly challenged by the experiences ahead of them and dramatically changed, but because I cared for them all so very much, I wanted only the best for them in the end.
The story is set against the backdrop of the Great Depression, and it often deals with the hardships endured by so many during that tragic era. I tried to be realistic in that portrayal, but also compassionate. And because I'm a child of the Midwest, I did my best to paint the Heartland landscape with loving strokes.
It's an old-fashioned kind of storytelling, and I wasn't certain if it would find an audience among modern readers, but I decided not to worry about this. I believe that if, as Hemingway put it, you write true, you will find your audience. I have tried to write the story as truly as it spoke to me from my heart. My hope is that it will speak to you in the same way.
*****
Here's the summary of This Tender Land.
For fans of Before We Were Yours and Where the Crawdads Sing, a magnificent novel about four orphans on a life-changing odyssey during the Great Depression, from the New York Times bestselling author ofOrdinary Grace.
1932, Minnesota—the Lincoln School is a pitiless place where hundreds of Native American children, forcibly separated from their parents, are sent to be educated. It is also home to an orphan named Odie O'Banion, a lively boy whose exploits earn him the superintendent's wrath. Forced to flee, he and his brother Albert, their best friend Mose, and a brokenhearted little girl named Emmy steal away in a canoe, heading for the mighty Mississippi and a place to call their own.
Over the course of one unforgettable summer, these four orphans will journey into the unknown and cross paths with others who are adrift, from struggling farmers and traveling faith healers to displaced families and lost souls of all kinds. With the feel of a modern classic, This Tender Land is an en­thralling, big-hearted epic that shows how the magnificent American landscape connects us all, haunts our dreams, and makes us whole.