After reading the Poisoned Pen's Collector's Corner newsletter yesterday, I ordered my copy of the current Hot Book of the Week, The Unlikely Escape of Uriah Heep by H.G. Parry. It's also the August First Mystery Book. It may go quickly, so you might want to order your signed copy as well. You can order it through the Web Store. https://bit.ly/2U8WGnR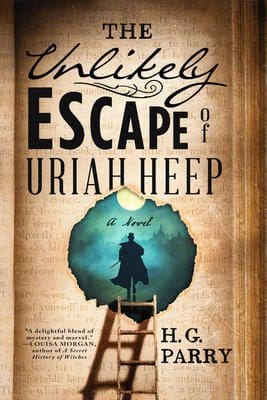 Here's the information from Barbara Peters in the newsletter.
Parry, H.G. The Unlikely Escape of Uriah Heep (Orbit $27 in stock). Charley Sutherland is a literary scholar and prodigy with a secret gift: he can bring characters from books to life. As fun as a visit from the Cat in the Hat or teatime with Sherlock Holmes might sound, Charley's older brother, Rob, knows better—it always means trouble. But Uriah Heep, that unlovable character from David Copperfield, appears as one of Rob's law firm interns, and the brothers later discover an entire Dickensian street filled with characters Charley swears he didn't create. Suddenly what used to be a nuisance turns into a dangerous adventure as they realize other summoners exist while surviving attacks from the Jabberwocky and the fearsome and giant Hound of the Baskervilles, among others. Meanwhile, Rob digs further into reality and discovers even deeper mysteries surrounding their own family. It comes down to saving the real world from complete fictional takeover.
Our August First Mystery Book of the Month reminds me strongly of Jasper Fforde's s huge hit The Eyre Affair ($17). So much that I conjured up signed copies from the New Zealand author, an exclusive for The Pen. Another fan adds,
"The Unlikely Escape of Uriah Heep, H.G. Parry's debut novel,
is a Dickensian booklover's delight, filled with the most popular characters from Western literature, from Heathcliff , Dorian Gray, and five brooding Mr. Darcys to more modern characters like Matilda and the Implied Reader, all navigating their own stories as well as the real world they've come to inhabit. Anyone who has ever wondered what it would be like to have a conversation with the Artful Dodger or to hold the legendary Excalibur in their hands will be in excellent company in the pages of this delightful literary fantasy." As one fictional creation puts it: "I think we've found ourselves in the middle of an adventure." I recommend this gem to lovers of historical and literary fiction as well as fans of intelligent cozies.
*****
Interested? I thought you might be.