I hope that heading caught your attention. Radha Vatsal recently wrote a piece for Kirkus Reviews called "Yes, Crime Fiction is Literature (and Other Observations on the Genre." Vatsal uses some of Borges' works to prove her point. You can read the article here. https://bit.ly/2U4VUsg
And, once you've read it, you might want to check out Vatsal's own mysteries, available through the Web Store. https://bit.ly/2ZnoY37
A Front Page Affair is the first in Radha Vatsal's Kitty Weeks series. If you're like me, you like to start at the beginning of a series. Here's the description of that first book.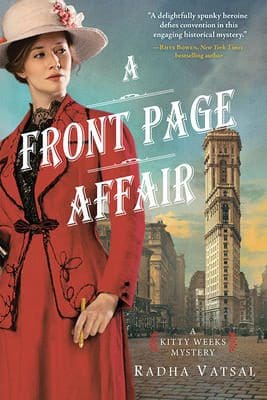 "This lively and well-researched debut introduces a charming historical series and an appealing fish-out-of-water sleuth who seeks independence and a career in an age when most women are bent on getting married, particularly to titled Englishmen. Devotees of Rhys Bowen's mysteries will enjoy making the acquaintance of Miss Weeks"—Library Journal, STARRED Review
New York City, 1915
The Lusitania has just been sunk, and headlines about a shooting at J.P. Morgan's mansion and the Great War are splashed across the front page of every newspaper. Capability "Kitty" Weeks would love nothing more than to report on the news of the day, but she's stuck writing about fashion and society gossip over on the Ladies' Page—until a man is murdered at a high society picnic on her beat.
Determined to prove her worth as a journalist, Kitty finds herself plunged into the midst of a wartime conspiracy that threatens to derail the United States' attempt to remain neutral—and to disrupt the privileged life she has always known.
Radha Vatsal's A Front Page Affair is the first book in highly anticipated series featuring rising journalism star Kitty Weeks.