It's a fun time of year, with all the award nominations. The Australian Crime Writers Association just announced the nominees for the 2019 Ned Kelly Awards. You'll want to check them out here. https://www.austcrimewriters.com/longlists-2019 Don't hit that "Buy" button. Support The Poisoned Pen and look for the books in the Web Store. https://store.poisonedpen.com/
Do you need reasons to check the longlist? Well, Sourcebooks/Poisoned Pen Press author Kerry Greenwood is up for the 2019 Best Fiction Award for The Spotted Dog.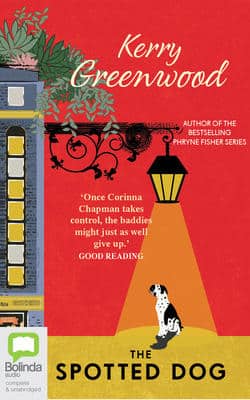 Here's another excuse. Bouchercon, the world's largest mystery convention, just announced that four Australian authors, including Ned Kelly Award winner Sulari Gentill, who is published by The Poisoned Pen, will be touring and attending Bouchercon. Jock Serong, who is an award nominee this year, will also be on the tour. You can catch those authors in Dallas during Bouchercon. Emma Viskic also won the Ned Kelly Award. In other words, the longlist could provide you with a wealth of interesting books. Here's the announcement from Bouchercon.
*****
2019 INTERNATIONAL SPOTLIGHT
Band on the Run
The American "On the Run" tour of four Australian mystery authors kicks off at Bouchercon 2019 in Dallas. Sularia Gentill, Jock Serong, Emma Viskiuc, and Robert Gott all have 2019 novels. Although they don't write heavy metal, they carry a lot of weight "" in awards and accolades.

Salaria Gentill's debut novel in 2010, "A Few Right Thinking Men," started her on an award-winning path. Since then, she's published a dozen more novels, eight Rowland Sinclair Mysteries, and the Hero Trilogy. She's won both a Ned Kelly Award for Best Crime Fiction and a Davitt Award for Crime Fiction. Her new novel is "All the Tears in China."

Jock Serong published his first novel in 2014 and won the Ned Kelly Award for First Crime Fiction. His follow up, "The Rules of Backyard Cricket" was shortlisted for five awards, including an Edgar. "On the Java Ridge," 2017, won the JCU Colin Roderick Award and HT Priestley Medal. "Preservation" is his current novel.

Emma Viskic took home the 2016 Ned Kelly Award for Best First Fiction and three Davitt Awards for her novel "Resurrection Bay. It's currently shortlisted for a Barry Award at Bouchercon. Her second novel, 2018's "And Fire Came Down" won her last year's Davitt Award. Her new novel is "Darkness for Light."

Keeping the band members from taking themselves too seriously is Dr. Robert Gott, author of seven historical crime novels set in 1940s Australia. He's the creator of the cartoon "The Adventures of Naked Man," which ran weekly for 19 years. Two of his crime novels, "Amongst the Dead" and "The Holiday Murders," were both shortlisted for Ned Kelly Awards for Best Crime Fiction. His 2019 novel is "The Autumn Murders." He's also author of 95 non-fiction children's books.

The crime writers from four different publishing houses are touring together through a grant from the Australian Arts Council in hopes of setting a precedent for mystery writers to pool resources and work together to make more international visits possible.
Below, Emma Viskiuc, Sulari Gentill, Jock Serong, and Robert Gott.