Daniel Nieh's debut crime novel, Beijing Payback, is the July selection for the First Mystery Book Club. Of course, you don't need to be a member to order a signed copy from the Web Store. https://bit.ly/2YdBttv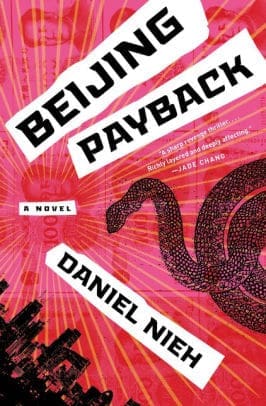 In a starred review, Publishers Weekly says, " This impressive blend of crime and coming-of-age marks Nieh as a talent to watch." https://bit.ly/2Oj9tVA
Here's the summary of Beijing Payback.
A fresh, smart, and fast-paced revenge thriller about a college basketball player who discovers shocking truths about his family in the wake of his father's murder
Victor Li is devastated by his father's murder, and shocked by a confessional letter he finds among his father's things. In it, his father admits that he was never just a restaurateur—in fact he was part of a vast international crime syndicate that formed during China's leanest communist years.
Victor travels to Beijing, where he navigates his father's secret criminal life, confronting decades-old grudges, violent spats, and a shocking new enterprise that the organization wants to undertake. Standing up against it is likely what got his father killed, but Victor remains undeterred. He enlists his growing network of allies and friends to finish what his father started, no matter the costs.