Maggie Robinson is the author of two mysteries featuring Lady Adelaide Compton., Nobody's Sweetheart Now, and Who's Sorry Now? The books are set in the 1920s. Both books are available through the Web Store. https://bit.ly/2r5nvfa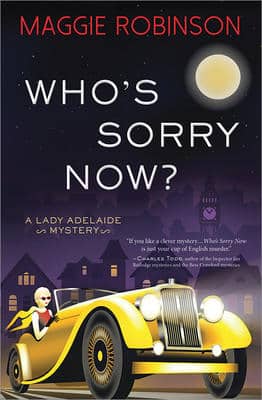 Recently, Robinson wrote an article for Bookreporter called "Bright and Young and Who's Sorry Now?" in which she discussed the 1920s. You might want to read the article for background to the series, or even just information about that time period. https://bit.ly/2LyLVtv
Here's the description of Who's Sorry Now?
"If you like a clever mystery, a handsome ghost, and the far-from-bereaved widow who can't find the elusive killer without Rupert's help, Who's Sorry Now? is just your cup of English murder."—Charles Todd, author of the Inspector Ian Rutledge mysteries and the Bess Crawford mysteries
London, England 1925
A Russian prince. A wealthy heir. An impoverished earl's daughter. Which one will make an untimely exit from the London social scene?
Scotland Yard Detective Inspector Devenand Hunter finds himself in the middle of a series of upper-class deaths in London. Bright Young People are being extinguished in their favorite night spots, from a sleazy private jazz club to the Savoy ballroom. Dev knows just the person to help him navigate the treacherous society waters: Lady Adelaide Compton, a marquess' daughter and widow of a Great War hero. Unfortunately, he has put her in jeopardy once before, nearly leading him to turn in his warrant card.
But when her sister Cee is nearly one of the victims, Addie turns to Mr. Hunter, offering her help… and it soon becomes clear that the two of them working together again could lead to much more than merely solving crime.
The Lady Adelaide Mysteries:
Nobody's Sweetheart Now (Book 1)
Who's Sorry Now? (Book 2)