From Spencer Quinn's Heart of Darkness to David Rosenfelt's Bark of Night, Poisoned Pen has gone to the dogs this week. Bark of Night, with its adorable cover, is the current Hot Book of the Week. Rosenfelt will be at The Poisoned Pen on Wednesday, July 17 at 7 PM to discuss his latest Andy Carpenter mystery. Signed copies, and copies of Rosenfelt's other books, are available through the Web Store. https://bit.ly/2YUUXUS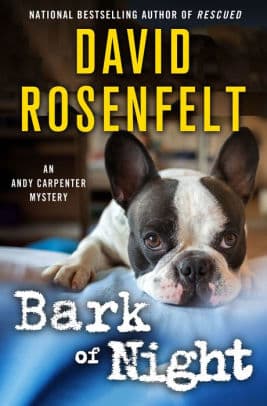 Here's the description of Bark of Night.
The next novel in David Rosenfelt's witty, heartfelt mystery series featuring lawyer Andy Carpenter and his faithful golden retriever, Tara.
When defense lawyer Andy Carpenter's veterinarian asks to speak to him privately at the checkup of his golden retriever, Tara, the last thing Andy expects is Truman. Tiny, healthy, French bulldog Truman was dropped off days ago with instructions to be euthanized by a man everyone thought was his owner. But now the owner is nowhere to be found.
Andy is furious. Who would want to euthanize a perfectly healthy dog with no explanation? He is willing to whisk Truman away to the Tara Foundation, the dog-rescue organization which is Andy's true passion. They will find a home for Truman. But that's not all the vet tells Andy. Thanks to Truman's chip, it's discovered that the man wasn't Truman's owner at all . . . Truman's real owner has been murdered.
It's now up to Andy "" with help from his loyal sidekick Tara, Truman and the rest of the gang "" to solve this case. In the latest in the popular Andy Carpenter mystery series, David Rosenfelt's charmingly clever wit and love of dogs are back and better than ever.