By now, many of you have probably heard the fairy tale story of Adrian McKinty, the award-winning author who couldn't make a living with his books. The Chain changed all that. McKinty's U.S. book tour consisted of appearances at just two bookstores. The Poisoned Pen hosted him on release date. You can still order copies of McKinty's books, including The Chain, through the Web Store. https://bit.ly/2LnC0XM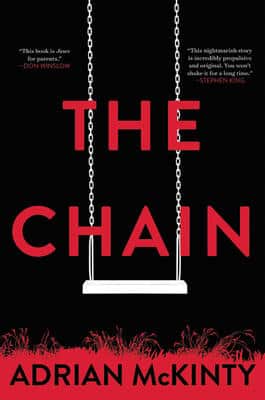 Here's the summary of The Chain.
VICTIM.
SURVIVOR.
ABDUCTOR.
CRIMINAL.
YOU WILL BECOME EACH ONE.
"This nightmarish story is incredibly propulsive and original. You won't shake it for a long time."
STEPHEN KING "McKinty is one of the most striking and most memorable crime voices to emerge on the scene in years. His plots tempt you to read at top speed, but don't give in: this writing – sharply observant, intelligent and shot through with black humor – should be savored."
TANA FRENCH"A masterpiece. You have never read anything quite like THE CHAIN and you will never be able to forget it."
DON WINSLOW
* * * * *
YOUR PHONE RINGS.
A STRANGER HAS KIDNAPPED YOUR CHILD.
TO FREE THEM YOU MUST ABDUCT SOMEONE ELSE'S CHILD.
YOUR CHILD WILL BE RELEASED WHEN YOUR VICTIM'S PARENTS KIDNAP ANOTHER CHILD.
IF ANY OF THESE THINGS DON'T HAPPEN:
YOUR CHILD WILL BE KILLED.

YOU ARE NOW PART OF THE CHAIN
*****
If you don't know Adrian McKinty's story, check out earlier posts on this site. You might want to do that because McKinty's conversation with Diana Gabaldon covers all kinds of subjects. You can eavesdrop here.