Maggie Robinson's second historical Lady Adelaide Mystery, Who's Sorry Now?, came out in June from Sourcebooks/Poisoned Pen Press. Miranda Owen's review in Fresh Fiction was so good we'd like to share it. You can order Who's Sorry Now?, and Robinson's other books, through the Web Store. https://bit.ly/2r5nvfa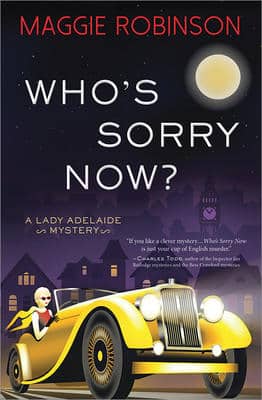 Here's the review as it appears at Fresh Fiction, reprinted with permission.
Reviewed by Miranda Owen
Posted July 3, 2019

WHO'S SORRY NOW? is the second book in Maggie Robinson's "Lady Adelaide" mystery series. Although this is the second book in this series, I was able to follow along and enjoy the story without having read the previous book. This is a historical mystery, set in 1920s England, but with a paranormal twist. Lady Adelaide Compton keeps getting embroiled in murder investigations and her late unlamented husband Rupert is her guardian angel. This story is told from alternating perspectives "" Adelaide's and the charming and determined Scotland Yard Detective Inspector Dev Hunter's. The way Dev and Adelaide are so smitten with each other, but resolved to hide their true feelings, is adorable and I look forward to seeing their relationship evolve in future books. Maggie Robinson helpfully includes a breakdown of who's who in the front of the book for readers to refer to.
Various young people are being picked off around town. Addie only gets involved because her sister has the misfortune of being the victim of an unsuccessful poisoning. I like the chemistry between Addie and Dev. While Dev is protective of Addie, and is naturally against civilians getting involved in a police investigation, he is pragmatic and accepts the help that Addie brings. Likewise, while she is occasionally annoyed with Dev in his professional capacity, she understands his perspective and respects his judgment and deductive reasoning. As Addie and Dev work together to figure out who's behind the killings, there are a multitude of likely suspects "" from shady characters like Freddy Rinaldi the manager of a local den of iniquity and favorite bad girl at large Mary Harmon to more aristocratic types like the debonair Prince Alexei. Rupert's running commentary on the suspects and his amusing bickering with Addie adds humor and breaks up the tension when things look particularly dark.
WHO'S SORRY NOW is a book to relish with characters and a story that will capture your imagination. Maggie Robinson is now one of my favorite authors of historical mysteries, along with Ashley Weaver and Sara Rosett. I can't wait to read the next "Lady Adelaide" mystery!
*****
Here's the summary of Who's Sorry Now?
If you like a clever mystery, a handsome ghost, and the far-from-bereaved widow who can't find the elusive killer without Rupert's help, Who's Sorry Now? is just your cup of English murder."—Charles Todd, author of the Inspector Ian Rutledge mysteries and the Bess Crawford mysteries
London, England 1925
A Russian prince. A wealthy heir. An impoverished earl's daughter. Which one will make an untimely exit from the London social scene?
Scotland Yard Detective Inspector Devenand Hunter finds himself in the middle of a series of upper-class deaths in London. Bright Young People are being extinguished in their favorite night spots, from a sleazy private jazz club to the Savoy ballroom. Dev knows just the person to help him navigate the treacherous society waters: Lady Adelaide Compton, a marquess' daughter and widow of a Great War hero. Unfortunately, he has put her in jeopardy once before, nearly leading him to turn in his warrant card.
But when her sister Cee is nearly one of the victims, Addie turns to Mr. Hunter, offering her help… and it soon becomes clear that the two of them working together again could lead to much more than merely solving crime.
The Lady Adelaide Mysteries:
Nobody's Sweetheart Now (Book 1)
Who's Sorry Now? (Book 2)