Washington, D.C. has always been a city of scandal. Chris DeRose discusses one of those scandals that led to a trial in his new book, Star Spangled Scandal: Sex, Murder, and the Trial that Changed America. He launched the book at The Poisoned Pen. You can order signed copies of the book through the Web Store. https://bit.ly/2Xl5Pde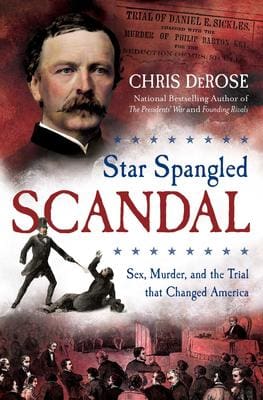 Here's the description of Star Spangled Scandal.
"… and sir I do assure you he has as much the use of your wife as you have."
— From an anonymous note delivered to Congressman Daniel Sickles on February 24, 1859
It is two years before the Civil War, and Congressman Daniel Sickles and his lovely wife Teresa are popular fixtures in Washington, D.C. society. Their house sits on Lafayette Square across from White House grounds, and the president himself is godfather to the Sickles' six-year-old daughter. Because Congressman Sickles is frequently out of town, he trusts his friend, U.S. Attorney Philip Barton Key—son of Francis Scott Key—to escort the beautiful Mrs. Sickles to parties in his absence. Revelers in D.C. are accustomed to the sight of the congressman's wife with the tall, Apollo-like Philip Barton Key, who is considered "the handsomest man in all Washington society… foremost among the popular men of the capital."
Then one day an anonymous note sets into motion a tragic course of events that culminates in a shocking murder in broad daylight in Lafayette Square.
This is the riveting true story of the murder and trial that sparked a national debate on madness, male honor, female virtue, fidelity, and the rule of law. Bestselling author Chris DeRose (The Presidents' War) uses diary entries, letters, newspaper accounts, and eyewitness testimonies to bring the characters to thrilling life in this antebellum true crime history.
*****
If you'd like to hear Chris DeRose talk about Star Spangled Scandal, you can watch the program.