The Western Writers of America conference was recently held in Tucson. On their way home, Spur Award-winning authors Loren D. Estleman and Reavis Z. Wortham stopped in at The Poisoned Pen to talk about their books and the Old West. Estleman's latest book is his historical western Wild Justice. Wortham just won the Spur Award for Best Paperback of 2018 for his second Sonny Hawke thriller, Hawke's War. The third in the series, Hawke's Target, is now out. You can order books by both authors through the Web Store. https://store.poisonedpen.com/
Estleman's latest Page Murdoch novel, Wild Justice, is a salute to the vanishing West. Here's the summary.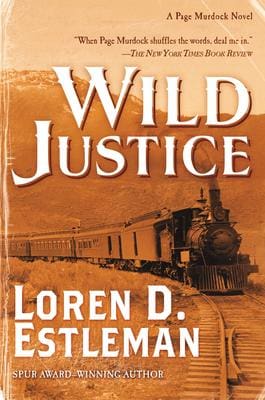 A riveting western novel starring beloved character Page Murdock from Spur Award-winning author Loren D. Estleman!
In the spring of 1896, after thirty years spent dispensing justice in the territory of Montana, Judge Harlan Blackthorne expires, leaving Deputy U.S. Marshal Page Murdock, his most steadfast officer, to escort his remains across the continent by rail.
The long journey—interrupted from time to time by station stops for the public to pay its respects and for various marching bands to serenade the departed with his favorite ballad, "After the Ball"—gives Murdock plenty of opportunity to reflect upon the years of triumphs and tragedies he's seen first hand, always in the interest of bringing justice to a wilderness he, his fellow deputies, and the Judge played so important a role in its settlement.
As the funeral train chugs through prairie, over mountains, and across rivers once ruled by buffalo herds, Indian nations, trappers, cowboys, U.S. Cavalry, entrepreneurs, and outlaws representing every level of heroism, sacrifice, ambition, and vice, Wild Justice provides a capsule history of the American frontier from its untamed beginnings to a civilization balanced on the edge of a new and unpredictable century.
*****
Reavis Z. Wortham's third Sonny Hawke thriller is Hawke's Target.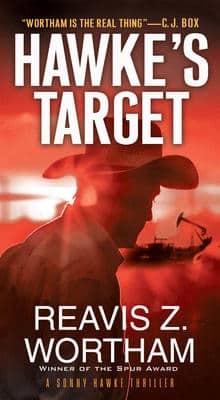 "There's a term we use in the west, the genuine article, and those words fit Reavis Wortham to a Texas T."
—Craig Johnson

"If you look for authenticity in your books, you'll swoon over Reavis Wortham. He's Texas true."
—C. J. Box

"Think: Elmore Leonard meets James Lee Burke." 
—Jeffery Deaver

Judge. Jury. Executioner. One man is taking the law into his own hands. His targets are criminals who slipped through the justice system. From California to Texas, this relentless avenger hunts down the unpunished and sentences them to death.

But now he's on Sonny Hawke's turf. A Texas Ranger committed to his job, Hawke will not abide vigilante justice—especially when innocents are also in the line of fire. The trail of bodies stretches across the Lone Star State to the most savage clan East Texas has ever seen.And Hawke is the only one who can stop them . . .

"Wortham knows how to ratchet tension with pitch-perfect West-Texas flavor." 
—Lone Star Literary Life
*****
If you'd like to eavesdrop on the conversation about the Old West, check out the video.