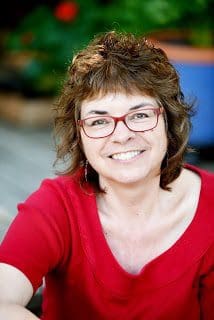 Leslie Budewitz, author of Chai Another Day, a cozy mystery set in Seattle, recently took time for an interview. You can find that book, and other ones by Budewitz through the Web Store. https://bit.ly/2wUwnHt
Thank you, Leslie, for taking the time to answer questions.
Leslie Budewitz and I share something in common, besides our love of mysteries. When I asked her about her childhood reading, she mentioned the Happy Hollisters. That series marked my first foray into mysteries. I was eager to read what else the former President of Sisters in Crime had to say in this interview. Thank you, Leslie, for taking time to answer questions.
*****
Leslie, I reviewed Assault and Pepper, your first Spice Shop Mystery, and we've met up at conferences, but I've never interviewed you. Let's remedy that. Would you introduce yourself to readers?
Thanks, Lesa! I'm a lawyer turned mystery writer, living in the woods in NW Montana with my husband, Don Beans, aka Mr. Right, a musician and doctor of natural medicine, and our cat, a big gray tuxedo. I'm passionate about books, food, art, and small-town life.
Would you introduce us to Pepper Reece?
Ah, Pepper. She didn't get her name from her job, running Seattle Spice in the Pike Place Market, but it suits her. (Her grandfather gave her the nickname when she was a toddler, and you'll have to know her a long time before you find out her birth name. Or read Killing Thyme.) She loved her life—married to a cop who worked the bike patrol and running staff HR for a major Seattle law firm. Then she turned 40 and it all fell apart. She literally tripped over her husband and a meter maid practically plugging each other, then the law firm imploded in scandal. So she bought a downtown loft and the spice shop. (Wouldn't you?) She never expected to find solace in bay leaves, and it hasn't always been easy—not with murder investigations regularly dropping in her path. But when you're in trouble, Pepper is the woman you want on your side.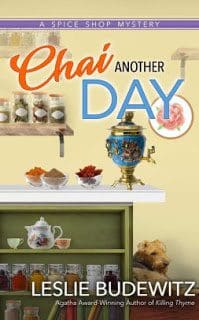 Tell us about Chai Another Day, without spoilers.
When Seattle Spice Shop owner Pepper Reece overhears an argument in an antique shop, she finds herself drawn into a murder that could implicate an old enemy, or ensnare a new friend.
It's about loyalty, trust, and identity—that last is a theme in all the Spice Shop Mysteries. Pepper's starting a new relationship, and struggling a bit with knowing whether she can trust this man and her own judgment. She's juggling employee crises and conflicts, as every business owner does, and trying to be a good daughter to a mother going through shifts of her own. It's about an ever-changing city, and yes, it's about chai. 
Why spices and Pike Place Market for this series?
My Food Lovers' Village Mysteries debuted in 2013 with Death al Dente; the series is set in Jewel Bay, Montana, based on the real village in the NW corner of the state, near Glacier National Park, where I've lived for nearly 20 years. When I decided to write a second series, I picked Seattle, where I went to college and practiced law for several years, partly for the contrast to the village and partly to let me spend time, on the page and on my feet, in a magical place. I fell in love with the Market my first year in college, more than 40 years ago, and still love it. It's the oldest continuously operating public market in the country "" founded in 1907 "" and it's constantly evolving. Think of the research! And by research, of course, I mean eat.
The urban cozy requires a community within a community, which defines Pike Place. In my early forays to the Market, I always stopped at Market Spice, next to the fish market, for a cup of tea, and it was the whiffs of herbs and spices that lured me into learning to cook. Spice has been luring humans for millennia! Giving my protagonist a spice shop not only gives her a popular market haunt, but it also connects her to the city's food and restaurant world, giving her good reasons to investigate.
It's been a few years since the last book in the series, Killing Thyme. How have you been killing time since then?
I finished the Food Lovers' Village Mysteries, with Treble at the Jam Fest (2017) and As the Christmas Cookie Crumbles (2018). I discovered another captivating character, "Stagecoach Mary" Fields, a real-life historical figure who stars in a series of historical short stories set in Montana Territory beginning in 1885. The first, "All God's Sparrows," appeared in Alfred Hitchcock Mystery Magazine and just won the 2018 Agatha Award for Best Short Story. The second, "Miss Starr's Goodbye," will appear in AHMM this fall. Another short story, "With My Eyes," set in Seattle and Athens, appeared in Suspense Magazine and won the 2018 Derringer Award, given by the Short Mystery Fiction Society. And "A Death in Yelapa: A Food Lovers' Village Story" is in the new Malice Domestic anthology, Mystery Most Edible.
I've also got a couple of book projects I hope I can talk about soon.
Everyone's journey to publishing is different. Tell us about your journey to publication for Death al Dente in your Food Lovers' Village series. Then, that book went on to win the Agatha for Best First Novel. How did you learn about that?
I started writing in my late thirties, during a personal crisis. Turns out that's not uncommon—if we've got a creative urge, it will often demand our attention during difficult times. I wrote four manuscripts, all set in Montana, that got attention and agents, but didn't sell. Finally, I followed the lead of Doug Lyle, MD, well-known in the mystery community for providing medical and forensic info to writers, and turned my newsletter columns on legal topics into Books, Crooks & Counselors: How to Write Accurately About Criminal Law & Courtroom Procedure, which won the 2011 Agatha Award for Best Nonfiction.
But passionate as I am about helping writers get the facts about the law right, I wasn't through writing my own fiction. I love cozies—the light side of mystery, with no graphic sex or violence and lots of graphic food—and thought my Montana village would make a fresh setting for a series, with each book focused on a festival, some real and some made up. (We love our festivals out here.) Happily, Berkley agreed. I headed back to Malice Domestic, where the Agatha Awards are given, and got to share the joy of winning with my editor and many friends from the Sisters in Crime Guppies chapter, who were my fairy godmothers on the path to publication.
Leslie, you were president of Sisters in Crime for a year. What are your favorite memories from that year? Your greatest accomplishment as president?
It is such a deep joy to hear from members—whether published or not, and of course, many aren't writers—telling me how much SinC means to them, both nationally and in their chapters. I had a fabulous board, in 2015-16, and we did a lot of work behind the scenes, so that SinC's finances and publicity work could run smoothly, and to enable us to support our chapters with the organizational nitty-gritty, ideas for programs and projects, and most exciting, the education grants. I had a blast representing SinC at the mystery cons, the Edgars (where we were awarded a Raven for contributions to the mystery community), the Writers' Police Academy, American Library Association, and more. It was a thrill to interview our founding mother, Sara Paretsky, as part of our 30th anniversary celebration, and to work with the chapter liaison and members to establish new chapters. And now it's a joy to watch subsequent boards and presidents continue the good work.
If you had to recommend 5 books for a person to read so they could get a feel for you and your reading taste, what 5 would you pick?
My tastes are nothing if not eclectic. I am a devotee of the poets Ted Kooser and the late Mary Oliver. It's a treat to sink into long-running mystery series where the characters are old friends who take me places I've never been, particularly those of Deborah Crombie, Barbara Ross, and Jacqueline Winspear. I've read A Mercy by Toni Morrison countless times, and few modern writers capture the voice of the young boy better than the late Ivan Doig, although I find Jamie Ford's young protagonists very appealing. (I say modern because of Mark Twain.)
And apparently, I can't count.
What books did you love as a child?
The usual mysteries, of course, starting with the Happy Hollisters. But the one book I most loved and still keep on my writing room shelves is Calico Bush by Rachel Fields, published in 1931. It's the story of Maggie, a French girl orphaned on board ship to the New World in 1743. She's "bound out" to a young family homesteading along the coast of Maine, where she finds courage and hope in the face of loss and struggle.. It's a marvelous book, still in print. 
As a librarian, I like to end interviews with the same question. Tell us a story about how a library or librarian influenced you?
I grew up in Billings, Montana, where the main library was built in 1903 as a gift to the city from the Billings family, who made their fortune in railroads. It's a sandstone building with turrets and cubbies and fireplaces in unexpected places, including the children's room. We all called it "the Castle," and though the city outgrew it in the late 60s and it now houses the Western Heritage Center, it started me on a long, magical road paved with books. These days when I visit libraries, they may be modern architectural wonders, refurbished  schools, or spaces in strip malls. But they're all castles to me.
Thank you, Leslie.
CHAI ANOTHER DAY Seventh Street Books — June 11, 2019 Paperback: $15.95, Kindle $9.99 ISBN: 978-1633885363
*****
L
Leslie is a 2018 Agatha Award winner for Best Short Story and also a recipient of the 2018 Derringer Award in the Long Story category.
CONNECT WITH LESLIE BUDEWITZ ONLINE Website: LeslieBudewitz.com Facebook: /LeslieBudewitzAuthor Twitter: @LeslieBudewitz Goodreads: /LeslieBudewitz
You can also join Leslie for more food, books and fun at Mystery Lovers Kitchen and Killer Characters!