Authors Mike Maden and James O'Donnell spent time talking with Poisoned Pen Bookstore owner Barbara Peters recently. They both wrote books about men who could be called warriors. Maden's Tom Clancy Enemy Contact features Jack Ryan, Jr. James O'Donnell's featuring Julius Caesar is The War for Gaul: A New Translation. Both books are available through the Web Store. https://store.poisonedpen.com
Here's the summary of Tom Clancy Enemy Contact.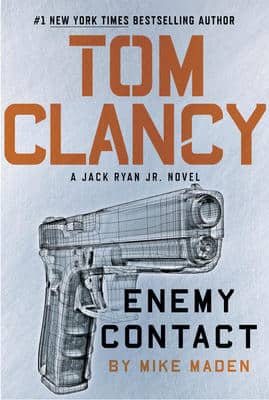 Jack Ryan, Jr.'s race to stop an international criminal conspiracy is intertwined with the fate of an old friend in this blistering entry in the #1New York Times bestselling series.

The CIA's deepest secrets are being given away for a larger agenda that will undermine the entire Western intelligence community. Director of National Intelligence Mary Pat Foley wants it stopped but doesn't know who, how or why.
Jack Ryan, Jr., is dispatched to Poland on a different mission. The clues are thin, and the sketchy trail dead ends in a harrowing fight from which he barely escapes with his life.
If that's not bad enough, Jack gets more tragic news. An old friend, who's dying from cancer, has one final request for Jack. It seems simple enough, but before it's done, Jack will find himself alone, his life hanging by a thread. If he survives, he'll be one step closer to finding the shadowy figure behind the CIA leak and its true purpose, but in the process, he'll challenge the world's most dangerous criminal syndicate with devastating consequences.
*****
Here's James O'Donnell's new translation of The War for Gaul.
A new translation that captures the gripping power of one of the greatest war stories ever told-Julius Caesar's pitiless account of his brutal campaign to conquer Gaul
Imagine a book about an unnecessary war written by the ruthless general of an occupying army-a vivid and dramatic propaganda piece that forces the reader to identify with the conquerors and that is designed, like the war itself, to fuel the limitless political ambitions of the author. Could such a campaign autobiography ever be a great work of literature-perhaps even one of the greatest? It would be easy to think not, but such a book exists-and it helped transform Julius Caesar from a politician on the make into the Caesar of legend. This remarkable new translation of Caesar's famous but underappreciatedWar for Gaulcaptures, like never before in English, the gripping and powerfully concise style of the future emperor's dispatches from the front lines in what are today France, Belgium, Germany, and Switzerland.
While letting Caesar tell his battle stories in his own way, distinguished classicist James O'Donnell also fills in the rest of the story in a substantial introduction and notes that together explain whyGaulis the "best bad man's book ever written"-a great book in which a genuinely bad person offers a bald-faced, amoral description of just how bad he has been.
Complete with a chronology, a map of Gaul, suggestions for further reading, and an index, this feature-rich edition captures the forceful austerity of a troubling yet magnificent classic-a book that, as O'Donnell says, "gets war exactly right and morals exactly wrong."
*****
Here's the event, if you'd like to watch it.