Saturday tea at The Poisoned Pen is special, a time to listen to authors, have books signed, and enjoy the tea and baked goods by John Charles. It's 2 PM this Saturday, June 8.
This Saturday, tea is with Jennifer Ashley, Kate Carlisle, and Lauren
Willig.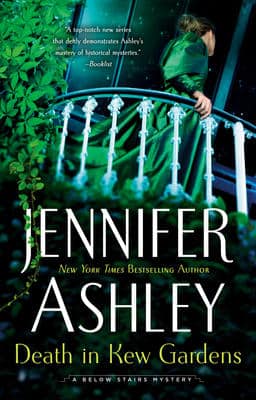 Ashley, Jennifer. Death in Kew Gardens (Berkley $15 June 8). This is a truly terrific Upstairs/Downstairs Victorian London mystery with evil housekeepers, a surprisingly stalwart butler, the murder of Sir Jacob-a mad collector of all things Chinese including plants, visits to Kew
Gardens, a Chinese gentlemen on a quest, and wonderful depictions of the meals prepared by Kat Holloway, the cook.  The third in the Death
Below Stairs series begins when Kat Holloway bowls over a Chinese
dressed in gorgeous but dirty silk while on her way home from market.Later that night when she steps out to share leftovers among the poor down the street, he appears and presents her with a beautiful box filledwith tea. Two days later when the kitchen erupts with the news that
Lady Cynthia's next-door neighbor has been murdered. Known about
London as an "Old China Hand," Sir Jacob claimed to be an expert in
the language and customs of China, acting as intermediary for
merchants and government officials. He also had a passion for plants
and frequented Kew Gardens. But Sir Jacob's dealings were not what
they seemed, and when the authorities accuse Mr. Li of the crime, Kat,
the household, and her interesting friend Daniel find themselves
embroiled in a world of deadly secrets that reach from the gilded
homes of Mayfair to the beautiful wonder of the gardens. Read the
whole series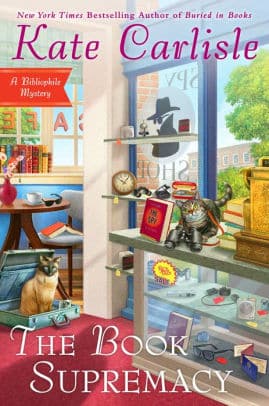 Carlisle, Kate. The Book Supremacy (Berkley $25 June 8). Here is lucky #13 in the Bibliophile Series. Newlyweds Brooklyn and Derek are enjoying the final days of their honeymoon in Paris. As they're browsing the book stalls along the Seine, Brooklyn finds the perfect gift for Derek, a first edition James Bond novel, The Spy Who Loved Me. When they bump into Ned, an old friend from Derek's spy days, Brooklyn shows him her latest treasure. Once they're back home in San Francisco, they visit a spy shop Ned mentioned. The owner begs them to let him display the book Brooklyn found in Paris as part of the shop's first anniversary celebration. Before they agree, Derek makes sure the security is up to snuff-turns out, the unassuming book is worth a great deal more than sentimental value. Soon after, Derek is dismayed when he receives a mysterious letter from Paris announcing Ned's death. Then late one night, someone is killed inside the spy shop. Are the murders connected to Brooklyn's rare, pricey book?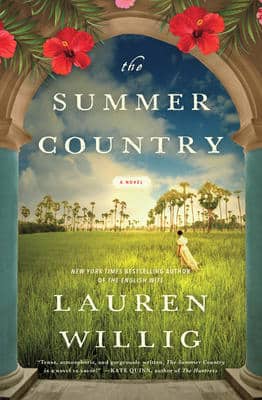 Willig, Lauren. The Summer Country (Harper $26.99 June 8). Willig has written many sorts of books, all rooted in history-she's a meticulous researcher. She has outdone herself with a book she describes as her "full out M. M. Kaye" (one of my favorite authors who did the British Empire well). It takes you to Barbados where English sugar barons and local planters wrested fortunes from the cane and their slaves. She bookends her two-track tale with the fiery rebellion of 1816 on the island and the lead up to it from 1812, and with the cholera epidemic that struck in 1854. I learned so much from both (excellent Appendix with sources) along with following the absorbing narrative. It opens in 1854: Emily Dawson has always been the poor cousin in a prosperous English merchant clan-merely a vicar's daughter, and a reform-minded vicar's daughter, at that. Everyone knows that the family's lucrative shipping business will go to her cousin, Adam, one day. But when her grandfather dies, Emily receives an unexpected inheritance: Peverills, a sugar plantation in Barbados-a plantation her grandfather never told anyone he owned. When Emily accompanies her cousin and his new wife to Barbados, she finds Peverills a burnt-out shell, reduced to ruins in 1816, when a rising of enslaved people sent the island up in flames. Rumors swirl around the derelict plantation; people whisper of ghosts. Why would her practical-minded grandfather leave her a property in ruins? Why are the neighboring plantation owners, the Davenants, so eager to acquire Peverills? As we zigzag from one set of characters to the other, we find out. This excellent standalone is not truly mystery but is so rich, moving, and relevant to today that it is our June Historical Book of the Month.
*****
If you can't make it on Saturday, you can still order a signed copy of any or all of the books through the Web Store. https://store.poisonedpen.com