Sourcebooks/Poisoned Pen Press author Maggie Robinson has a new book due out on June 1. Who's Sorry Now? is the second Lady Adelaide mystery. It's available to pre-order through the Web Store. https://bit.ly/2r5nvfa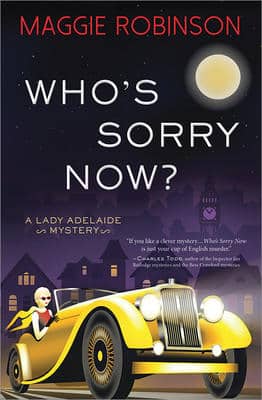 Here's the description of Who's Sorry Now?
London, England 1925
A Russian prince. A wealthy heir. An impoverished earl's daughter. Which one will make an untimely exit from the London social scene?
Scotland Yard Detective Inspector Devenand Hunter finds himself in the middle of a series of upper-class deaths in London. Bright Young People are being extinguished in their favorite night spots, from a sleazy private jazz club to the Savoy ballroom. Dev knows just the person to help him navigate the treacherous society waters: Lady Adelaide Compton, a marquess' daughter and widow of a Great War hero. Unfortunately, he has put her in jeopardy once before, nearly leading him to turn in his warrant card.
But when her sister Cee is nearly one of the victims, Addie turns to Mr. Hunter, offering her help… and it soon becomes clear that the two of them working together again could lead to much more than merely solving crime.
*****
Of course, our intention is to tempt you to check out books. The first Lady Adelaide book was Nobody's Sweetheart Now. Michael Barson interviewed author Maggie Robinson last year when that book was out. Here's that interview.
After writing numerous historical romances set in the Regency, Victorian and Edwardian eras, Maggie Robinson now tries her hand at a mystery series that begins in 1924. In the opening installment, NOBODY'S SWEETHEART NOW, a murder ruins Lady Adelaide Compton's weekend house party, and Inspector Devenand Hunter must determine which of her 12 houseguests is a cold-blooded killer. Meanwhile, Addie is confronted by the spirit of her late husband, Major Rupert Charles Cressleigh Compton, who has to perform a few good deeds before being welcomed to heaven — or, more likely (thinks Addie), to hell. In this interview, Robinson explains what inspired her to make the genre switch, her decision to set this new series in the 1920s English countryside, and why she chooses to be "a total pantser" during the writing process.
Question: You've set this new series in the 1920s English countryside. What drew you to that particular time and place?
Maggie Robinson: As a hopeless Anglophile, my characters and I are very happy in the Cotswolds! We've made too many trips to England to count since my husband and I were first married, and have rented quaint cottages in Painswick and Kingham for extended stays, complete with AGAs, low ceilings and terrifyingly steep stairs. There is nothing like an English cottage garden in the spring, unless it's a stately home's garden in the spring!
Q: After writing numerous historical romances, what inspired you to try your hand at a mystery series set in 1924? And why that particular year?
MR: I think there might be something wrong with me. After setting 16 novels in the Regency, Victorian and Edwardian eras, I was keen to do some more research on the "more modern" 1920s, a time period that's always fascinated me. The years between the Great War and the Depression were filled with every conceivable excess and deprivation, and the contrasts make for so many possibilities. Several of my romances have an element of suspense, and since mysteries were my first reading love, I wondered if I could construct one and took it on as a challenge. As for 1924, skirts were slowly being raised. How could I resist?
Q: Were you surprised by any aspect of the writing process for this mystery versus the technique you employed for the romances you've been writing?
MR: I am a total pantser. Every time I try to outline or use sticky notes to plot, my characters have decided to ignore me and go their own way. I believe most mystery writers know "whodunnit" before they get started, but not me. I'm one-third of the way through my current work in progress, and have no idea who's guilty yet, LOL. I hope it will be as much of a surprise to the readers. My motto is "guilty until proven innocent." And I must say it's somewhat of a relief not to worry about my characters kissing. It's so much more fun to kill them.
Q: Your protagonist, Lady Adelaide Compton, at times seems to be channeling screen star Carole Lombard, the mistress of madcap romantic comedies. Did you model Adelaide on anyone in particular, from either lit or film?
MR: You must have seen my Pinterest board! I've spent way too many hours watching old black and white movies from the '30s. The Thin Man, Bringing Up Baby and Topper were all inspirations. A reviewer once described one of my romance books as "funny, poignant, and sexy, this book has all the charm of a classic screwball comedy with more substance," and I hope I've brought that to NOBODY'S SWEETHEART NOW.
Q: Who would you say your primary writing influences have been, in your lead-up to becoming a published author?
MR: I read mysteries long before I read romances, and devoured Agatha Christie, Josephine Tey, Dorothy L. Sayers and Georgette Heyer in both genres. There's nothing like having a lot to live up to!