Marc Cameron recently admitted to Patrick Millikin at The Poisoned Pen that his new book, Open Carry, is probably his most personal book so far. Open Carry is the first in Cameron's new U.S. Marshall series. You can order a signed copy of Open Carry, and copies of Cameron's other books through the Web Store. https://bit.ly/2LmOQ9B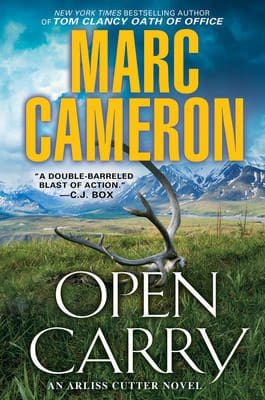 Here's the description of Open Carry.
New York Times Bestselling Author of Field of Fire and Tom Clancy Power and Empire and Tom Clancy Oath of Office

"Cameron's books are riveting page-turners."
—Mark Greaney, #1 New York Times bestselling author
Law enforcement veteran Marc Cameron brings an explosive authenticity to this powerful new U.S. Marshal series. Arliss Cutter is a hero for our times. And his hunt for justice cuts straight to the bone. . . .

U.S. Marshal Arliss Cutter is a born tracker. Raised in the Florida swamplands, he honed his skills in the military, fought in the Middle East, and worked three field positions for Marshal Services. When it comes to tracking someone down—or taking someone out—Cutter's the best. But his newest assignment is taking him out of his comfort zone to southeast Alaska. Cold, dark, uninhabited forests often shrouded in fog. And it's the kind of case that makes his blood run cold . . . the shocking murder of a Tlingit Indian girl.

But the murder is just the beginning. Now, three people have disappeared on Prince of Wales Island. Two are crew members of the reality TV show,Fishwives. Cutter's job is to find the bodies, examine the crew's footage for clues, and track down the men who killed them. But it won't be easy, because the whole town is hiding secrets, every trail is a dead end—and the hunter becomes the hunted . . .
*****
Marc Cameron's stories of his experiences in law enforcement are fascinating. You'll want to watch the conversation with Patrick Millikin.