Alafair Burke and Lori Rader-Day have both been Edgar Award nominees. Before this year's ceremonies, they were at The Poisoned Pen where they had a conversation. Rader-Day led the conversation, interviewing Alafair Burke about her new book, The Better Sister. Rader-Day's Under a Dark Sky came out last year, and was nominated for several awards. Burke's books, including signed copies of The Better Sister, are available through the Web Store. https://bit.ly/2GHPkkT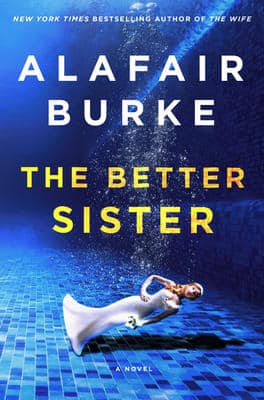 Here's the description of The Better Sister.
Recommended by Amazon, Barnes & Noble, Entertainment Weekly, Popsugar, Goodreads, CrimeReads, and BookBub.
Keep your enemies close and your sister closer.
Though Chloe was the younger of the two Taylor sisters, she always seemed to be the one in charge. She was the honor roll student with big dreams and an even bigger work ethic. Nicky—always restless and more than a little reckless—was the opposite of her ambitious little sister. She floated from job to job and man to man, and stayed close to home in Cleveland.
For a while, it seemed that both sisters had found happiness. Chloe earned a scholarship to an Ivy League school and moved to New York City, where she landed a coveted publishing job. Nicky married promising young attorney Adam Macintosh and gave birth to a baby boy they named Ethan. The Taylor sisters became virtual strangers.
Now, more than fifteen years later, their lives are drastically different—and Chloe is married to Adam. When he's murdered by an intruder at the couple's East Hampton beach house, Chloe reluctantly allows her teenage stepson's biological mother—her estranged sister, Nicky—back into her life. But when the police begin to treat Ethan as a suspect in his father's death, the two sisters are forced to unite . . . and to confront the truth behind family secrets they have tried to bury in the past.
*****
Check the Web Store for copies of Lori Rader-Day's award-winning and nominated books. https://bit.ly/2PyU6oQ
Here's the summary of Under a Dark Sky.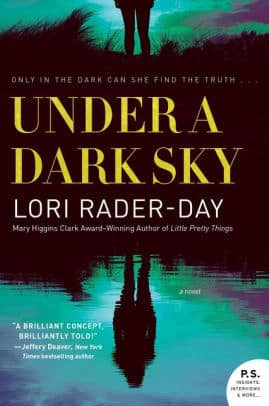 From the critically-acclaimed author of The Day I Died comes a terrifying twist on a locked-room mystery that will keep readers guessing until the last page
Only in the dark can she find the truth . . .
Since her husband died, Eden Wallace's life has diminished down to a tiny pinprick, like a far-off star in the night sky. She doesn't work, has given up on her love of photography, and is so plagued by night terrors that she can't sleep without the lights on. Everyone, including her family, has grown weary of her grief. So when she finds paperwork in her husband's effects indicating that he reserved a week at a dark sky park, she goes. She's ready to shed her fear and return to the living, even if it means facing her paralyzing phobia of the dark.
But when she arrives at the park, the guest suite she thought was a private retreat is teeming with a group of twenty-somethings, all stuck in the orbit of their old college friendships. Horrified that her get-away has been taken over, Eden decides to head home the next day. But then a scream wakes the house in the middle of the night. One of the friends has been murdered. Now everyone—including Eden—is a suspect.
Everyone is keeping secrets, but only one is a murderer. As mishaps continue to befall the group, Eden must make sense of the chaos and lies to evade a ruthless killer—and she'll have to do it before dark falls.
*****
Two strong authors, discussing their strong female characters. You'll really want to hear the conversation.