"The pitch-perfect setting, an intriguing mystery, a humdinger of a showdown at book's end, AND some fantastic characters. Is The Mykonos Mob a winner? You'd better believe it!" That's Cathy Cole's summary at Kittling: Books, https://bit.ly/2v8YVvD of Jeffrey Siger's latest Andreas Kaldis mystery, The Mykonos Mob. Siger will be at The Poisoned Pen on Tuesday, April 16 at 7 PM to discuss and sign his book. You can order Siger's books, including a signed copy of The Mykonos Mob, through the Web Store. https://bit.ly/2KOiKQ6[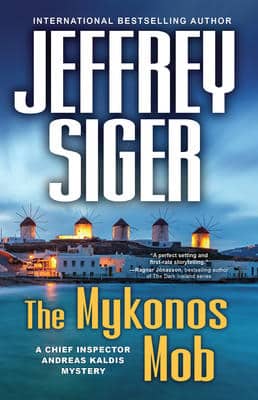 Here's the description of The Mykonos Mob.
"A perfect setting and first-rate storytelling." —Ragnar Jónasson, bestselling author of The Dark Iceland series
When corruption lies deep beneath the surface, how can the truth come to light?
The case begins for Athens' Chief Inspector Andreas Kaldis with a literal bang when a corrupt former police colonel who runs a protection racket on Mykonos is gunned down. Suddenly, Athens' Chief Inspector Andreas Kaldis is face-to-face with Greece's top crime bosses on an island whose natural beauty and reputation as an international playground belies the corruption lurking just beneath the surface.
While Andreas and his Special Crimes unit wrestle for answers, Andreas's wife, Lila, meets an American expat named Toni, a finder of stolen goods and a piano player in a gender-bending bar who has a zest for life and no apparent regard for rules. As Lila and Toni bond over a common desire to mentor young island girls trapped in an exploitative and patriarchal culture, they soon find that their efforts to improve the lives of the Greek girls they've come to care about intersect with Andreas' investigation in ways that prove to be dangerous for all involved…
The Mykonos Mob is a thrilling police procedural, perfect for readers of Martin Walker and Donna Leon!
Additional Praise for the Chief Inspector Andreas Kaldis Series:
"[A] suspenseful trip through the rarely seen darker strata of complex, contemporary Greece." —Publishers Weekly"Target: Tinos [is] another of Jeffrey Siger's thoughtful police procedurals set in picturesque but not untroubled Greek locales."—New York Times
"Siger paints travelogue-worthy pictures of a breathtakingly beautiful—if politically corrupt—Greece." —Publishers Weekly STARRED review for Sons of Sparta"Siger brings Chief Inspector Andreas Kaldis some very big challenges in his seventh mystery set in troubled contemporary Greece…The final plot twist proves well worth the wait, but it won't take readers long to get there as they will be turning pages at a ferocious clip." —Booklist STARRED review for Devil in Delphi
"Fans of Adrian McKinty's Sean Duffy books and other police procedurals that handle violence and political issues with black humor will welcome this outstanding crime novel." —Library Journal STARRED review for An Aegean April