I wish this short Meet the Author video had been available before Deanna Raybourn appeared at The Poisoned Pen last month. But, it's never too late to mention an author and her books. Raybourn is the author of the Veronica Speedwell mysteries. A Dangerous Collaboration is the most recent one. You can order copies of the books in this series, including a signed copy of A Dangerous Collaboration, through the Web Store. https://bit.ly/2BlRbLF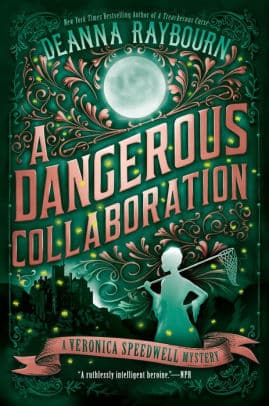 Here's the summary of A Dangerous Collaboration.
A bride mysteriously disappears on her wedding day in the newest Veronica Speedwell adventure by the New York Times bestselling author of the Lady Julia Grey series.

Lured by the promise of a rare and elusive butterfly, the intrepid Veronica Speedwell is persuaded by Lord Templeton-Vane, the brother of her colleague Stoker, to pose as his fiancée at a house party on a Cornish isle owned by his oldest friend, Malcolm Romilly.
But Veronica soon learns that one question hangs over the party: What happened to Rosamund? Three years ago, Malcolm Romilly's bride vanished on their wedding day, and no trace of her has ever been found. Now those who were closest to her have gathered, each a possible suspect in her disappearance.
From the poison garden kept by Malcolm's sister to the high towers of the family castle, the island's atmosphere is full of shadows, and danger lurks around every corner.
Determined to discover Rosamund's fate, Veronica and Stoker match wits with a murderer who has already struck once and will not hesitate to kill again.…
*****
Here's "Meet the Author – Deanna Raybourn".
In case you missed the event at The Poisoned Pen, and would like to watch it, here's the link to the program.