Jacqueline Winspear, author of the Maisie Dobbs books, will be at The Poisoned Pen on Tuesday, March 26 at 7 PM. During this visit, she has two books to discuss and sign, but I have the feeling part of the conversation will be about radio. She discusses that in her recent newsletter.
The American Agent and The Power of Radio
In this newsletter:

Publication update for The American Agent and What Would Maisie Do?
Radio—the "wireless" of its day
I am so excited about publication of two books next week! On March 26th—as you all know by now—The American Agent, the latest novel in the Maisie Dobbs series will be published, at the same time as What Would Maisie Do? the non-fiction book bringing together readers' favorite passages from the series, along with my inspiration for each piece, and new questions for you, the reader, to consider. There's space for you to record your responses, and also sections on locations mentioned in the series, as well as gorgeous color plates and other photos to give you a real sense of Maisie Dobbs' world.
But back to The American Agent. For this novel I drew upon family recollections and stories in my effort to give a real sense of what life was like for those who lived through the Blitz, and though the novel is concentrated in London, you will see in the "Author's Notes" that I have drawn readers' attention to the fact that many British cities were impacted by the Luftwaffe "Blitzkrieg." Bombing of Britain's cities would continue throughout the war, but "Blitzkrieg" was formed of a very specific "V" formation of bombers and fighter aircraft, with the former carrying not only devastating heavy bombs, but thousands of incendiary devices that would rain down upon the cities to cause conflagrations such as you could not imagine. I also added that at the same time, while RAF fighter pilots were doing their best to stop the German attacks, British bombers were heading into Germany.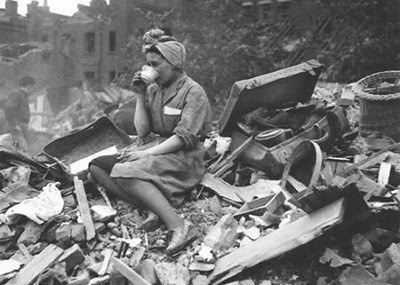 The Blitz
One feature of The American Agent is the radio, and how radio broadcasts not only informed people—with some editorial work to keep up spirits—but also became a powerful tool of soft propaganda. Edward Murrow and his cadre of "warcasters" brought the war to American families with searing descriptions of what they saw each and every day. Indeed, you could think of them as "change agents" because that is exactly what Murrow did—the American public began to move away from the isolationist rhetoric of certain politicians, realizing that Britain was holding back the Nazi threat alone. Murrow's late-night broadcasts reached the US east coast at dinner time, so you can just imagine a family around the table, eating dinner while listening to the sound of people running toward a shelter during the bombing—Murrow took a microphone and recording equipment into the streets to give people at home in the USA a real sense of what was happening on the other side of the Atlantic.
Ed Murrow broadcasting during the Blitz
The radio—or "wireless" as it was called in Britain—made a huge impact when it became available to the broader population, and by the 1930's it was bringing the wider world into people's living rooms, with news, music and light entertainment. In Britain, the British Broadcasting Company (before it became "Corporation") required the men—and it was pretty much always men—who read the news to wear evening jackets and bow ties, even though it was not a visual medium. In short order, tens of thousands of people had radios—arguably, it was the Internet of its day. Today in Britain (I don't have the stats for the USA), some 90% of people listen to the radio each week—on the way to work (25% of listeners), at home (60%) or in the office. Apparently that's a weekly average of 21.3 hours per listener, per week. Now of course you can stream radio programming, though many people miss that crackle and pop of the dial as it turns to the next station.
Listening to the wireless
Excerpts from real radio broadcasts are peppered throughout The American Agent. I am not sure when I decided to weave in some of my research in this way, but for me it gave the story an immediacy, and it was also—I suppose—a love letter from me to radio itself, and my memories of listening to the radio with my parents when I was a child. Today, despite streaming, playlists and podcasts, I still love listening to the radio, mainly when I'm driving. Needless to say, during the war years, the radio was particularly important in the lives of women, who not only listened at home, but in factories and while in the services. It brought people together, bolstered morale, and it made them laugh. Of course, one broadcaster who was deadly serious, but actually made most people laugh, was "Lord Haw Haw." You may have heard of him. William Joyce was an American born Anglo-Irish fascist (he held a British passport) and Nazi propaganda broadcaster, whose "hoity-toity" voice boomed across the airwaves in an effort to undermine British morale during the war. He was eventually captured in Germany by British forces in 1945, and brought to London, where he was tried at the Old Bailey and found guilty of High Treason. He was executed in 1946.
Lord Haw Haw
There's much I could write about radio during the war years, but perhaps the best thing is simply to say that you can listen to the wartime broadcasts of people such as Edward Murrow, J.B. Priestley and others—they're on the Internet. Those recordings are some 80 years old now and still able to inspire goosebumps—that's the power of radio.
My book tour starts in a week, on March 25th. You can check out my tour itinerary here—hopefully I'll see many of you along the way. And for those of you who cannot attend one of the events, there's a new What Would Maisie Do? group interface where you can discuss the series and your favorite passages from the books. It helps to have a copy of What Would Maisie Do? to hand, but readers are talking already!
Until the next time…
Jacqueline
*****
You can order Winspear's books, including copies of The American Agent and What Would Maisie Do? through the Web Store. https://bit.ly/2JDLy0W