Brad Parks and Glen Erik Hamilton were recently at The Poisoned Pen, hosted by Barbara Peters, owner of the bookstore. Anyone who takes the time to watch the video will enjoy the witty conversation. Parks's latest book, The Last Act, was recently the subject of Patrick Anderson's article in The Washington Post, https://wapo.st/2Cr4CcE. Anderson said The Last Act may be Parks' best book yet.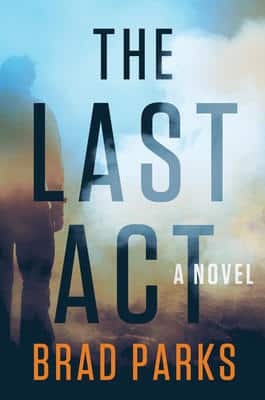 Here's the description of The Last Act.
Award-winning author Brad Parks delivers a tense novel of thrills, twists, and deceit that grabs you and won't let go until the final, satisfying page.

Tommy Jump is an out-of-work stage actor approached by the FBI with the role of a lifetime: Go undercover at a federal prison, impersonate a convicted felon, and befriend a fellow inmate, a disgraced banker named Mitchell Dupree who knows the location of documents that can be used to bring down a ruthless drug cartel. . . if only he'd tell the FBI where they are.

The women in Tommy's life, his fiancée and mother, tell him he's crazy to even consider taking the part. The cartel has quickly risen to become the largest supplier of crystal meth in America. And it hasn't done it by playing nice. Still, Tommy's acting career has stalled, and the FBI is offering a minimum of $150,000 for a six-month gig—whether he gets the documents or not.

Using a false name and backstory, Tommy enters the low-security prison and begins the process of befriending Dupree. But Tommy soon realizes he's underestimated the enormity of his task and the terrifying reach of the cartel. The FBI isn't the only one looking for the documents, and if Tommy doesn't play his role to perfection, it just may be his last act.
*****
Glen Erik Hamilton's Mercy River is the fourth book in his Van Shaw series. Hamilton was kind enough to take time recently to answer questions for this blog. You can read his "In the Hot Seat" interview here. https://bit.ly/2XRGoRU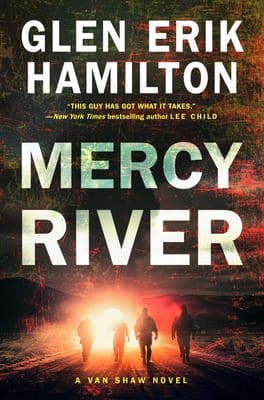 Here's the summary of Mercy River.
Helping a fellow veteran accused of murder, Van Shaw is drawn into a dangerous labyrinth involving smuggled opioids, ruthless mercenaries, and deadly family secrets that will challenge his notions of brotherhood and justice in this riveting thriller from Anthony, Macavity and Strand Critics Award-winning author Glen Erik Hamilton.
When his friend Leo Pak is arrested on suspicion of murder and armed robbery, Van Shaw journeys to a remote Oregon county to help his fellow Ranger. Van had been Leo's sergeant when they served with the 75thRegiment in Afghanistan, and back in the States, Leo had helped Van when he needed it most.
Arriving in the isolated town of Mercy River, Van learns that his troubled friend had planned to join a raucous three-day party that dominates the place for one weekend each year. Attended by hundreds of former and active Rangers, the event is more than just a reunion; it's the central celebration of a growing support network called the Rally, founded and led by a highly decorated Special Operations general named Macomber.
But there's more going on in Mercy River than just a bunch of Army hard cases blowing off steam. The murder victim—the owner of a local gun shop where Leo worked part time—was dealing in stolen heroin-grade opiates. Worse, the town has a dark history with a community of white supremacists, growing in strength and threatening to turn Mercy River into their private enclave.
The cops have damning evidence linking Leo to the murder, and Van knows that backwaters like Mercy River are notorious for protecting their own. His quest to clear Leo's name will stir up old grudges and dark secrets beneath the surface of this secretive small town, pit his criminal instincts against his loyalties to his brothers in arms, and force him to question his own belief in putting justice above the letter of the law.
Glen Erik Hamilton creates crime fiction that pulsates with emotional intensity and is "as much fun to read as Lee Child's Jack Reacher" (J. A. Jance). In Mercy River, Hamilton highlights the unique and powerful moral struggle inherent in Van Shaw's iconoclastic character—an honorable man torn between upholding the law and breaking it to save innocent lives. Action-packed, riveting, and powerful, Mercy River is a novel that goes to the heart and soul of what it means to be a hero in a corrupt and punishing world.
*****
Signed copies of these books by both authors are available through the Web Store. https://poisonedpen.com/
If you missed it, I hope you have time to watch the event with the authors in conversation.