The current Hot Book of the Week at The Poisoned Pen introduces a new series. Gytha Lodge's She Lies in Wait is a suspense novel. In fact, I'm keeping you in suspense by not telling you what it's about yet. Instead, I'll mention you can order a copy through the Web Store. https://bit.ly/2MIEhKN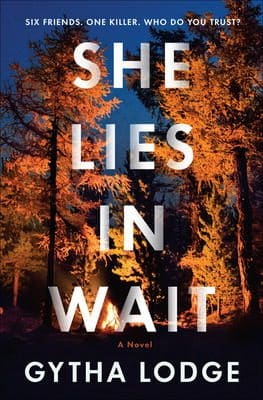 Here's the summary of She Lies in Wait.
Six friends. One killer. Who do you trust? A teen girl is missing after a night of partying; thirty years later, the discovery of her body reopens a cold case in an absorbing novel featuring a small-town cop determined to finally get to the truth—for fans of Tana French and Kate Atkinson.
"What a marvel! A corkscrew-twisty, knife-sharp thriller—yet it doubles as a tender ode to loss and longing. Prepare to be haunted."—A. J. Finn, author of the New York Times bestseller The Woman in the Window
On a scorching July night in 1983, a group of teenagers goes camping in the forest. Bright and brilliant, they are destined for great things, and the youngest of the group—Aurora Jackson—is delighted to be allowed to tag along. The evening starts like any other—they drink, they dance, they fight, they kiss. Some of them slip off into the woods in pairs, others are left jealous and heartbroken. But by morning, Aurora has disappeared. Her friends claim that she was safe the last time they saw her, right before she went to sleep. An exhaustive investigation is launched, but no trace of the teenager is ever found.
Thirty years later, Aurora's body is unearthed in a hideaway that only the six friends knew about, and Jonah Sheens is put in charge of solving the long-cold case. Back in 1983, as a young cop in their small town, he had known the teenagers—including Aurora—personally, even before taking part in the search. Now he's determined to finally get to the truth of what happened that night. Sheens's investigation brings the members of the camping party back to the forest, where they will be confronted once again with the events that left one of them dead, and all of them profoundly changed forever.
This searing, psychologically captivating novel marks the arrival of a dazzling new talent, and the start of a new series featuring Detective Chief Inspector Jonah Sheens.
Praise for She Lies in Wait
"This enjoyably chilling suspense tale . . . conveys both the thrills and the dangers of being a teenager on the brink of adult independence. . . . The fascination of this story is in the character studies of the surviving children, all grown up now and participants in a dark mystery that they all wish had never seen the light of day."—The New York Times Book Review
"The mystery intrigues and twists, offering enough red herrings and moments of police procedural to please fans of the genre."—Kirkus Reviews (starred review)

"Neatly plotted and nicely atmospheric . . . This British import is plausible and eminently satisfying. Encore, please."—Booklis